Midtown Miami Celebrates Opening of M Park - Make Your Mark on the Interactive Mural Project
About this event
Celebrate the opening of The Shops at Midtown Miami's M Park, while leaving your "mark," with a colorful afternoon of play on Saturday, November 13 from 12 p.m. to 5 p.m. at the center, 3401 North Miami Avenue.
Visitors of all ages are invited to participate in an interactive mural project by adding their color among eight oversized canvases displayed along the border of the park. The canvases will be outlined with sketches reflective of the area by local artist, Carley Cavanaugh. Participants will receive their own markers and complimentary pencil case, available while supplies last.
The finished artwork will be displayed at M Park throughout the holiday season.
A South Florida native, Carley Cavanaugh is a self-taught artist, muralist, painter, and graphic designer known for her abstract designs and vivid colors. Her works emanate positivity and light and have received an enthusiastic response from the community.
Located at The Shops at Midtown Miami's central round-about near Nordstrom Rack and West Elm, M Park consists of two areas; an open grassy space with tables and benches for relaxing and events and an enclosed playground for kids. The playground is designed for children aged two to 12, consisting of four separate play structures for visitors to enjoy. The play structures feature multiple levels with climbers, slides, rock walls, cargo climbing nets and monkey bars under integrated sail shades. The two sides of the park, connected by a large Gumbo Limbo tree in the center for shade, are surrounded by artificial turf.
M Park has a capacity of 210 people and is a destination for local events, as well as a location to relax and enjoy a picnic with food from one of The Shops at Midtown Miami's many restaurants.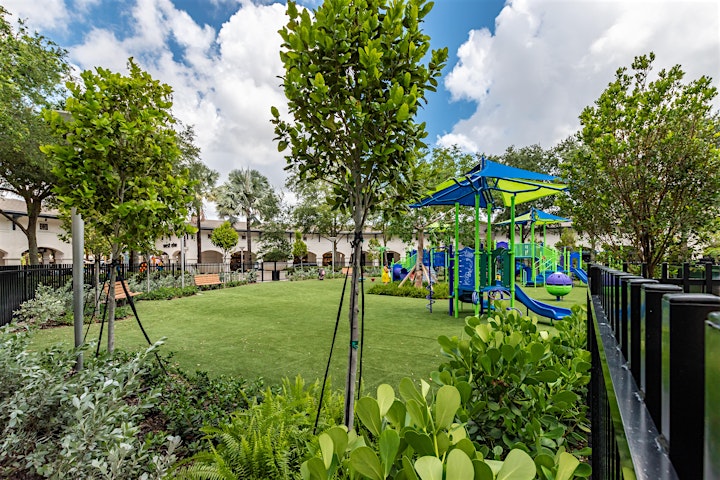 Organizer of LEAVE YOUR "MARK" AT MIDTOWN MIAMI " M PARK" WITH INTERACTIVE ART PROJECT