Bring your friends and join us for a fun-filled evening of Leave No Trace Trivia. Win prizes and learn to protect the places you love!
About this Event
Leave No Trace Trivia Night & Contest!
Learn to protect the places you love, and win cool prizes along the way!
Whether you are new to Leave No Trace or consider yourself a Leave No Trace expert, join us for this interactive game night to gauge your knowledge of Leave No Trace practices and principles while learning tips and techniques for protecting your favorite outdoor spaces, from the backyard to the backcountry.
This trivia night will help kick off a fall Leave No Trace Three-Part Learning Series for Kula Academy during the first three weeks of November.
Come ready to play! We will use an online trivia platform. Having a cell phone or other device handy will be the best way to play, so bring those devices with you. Don't have one? No worries! You can still participate in chat.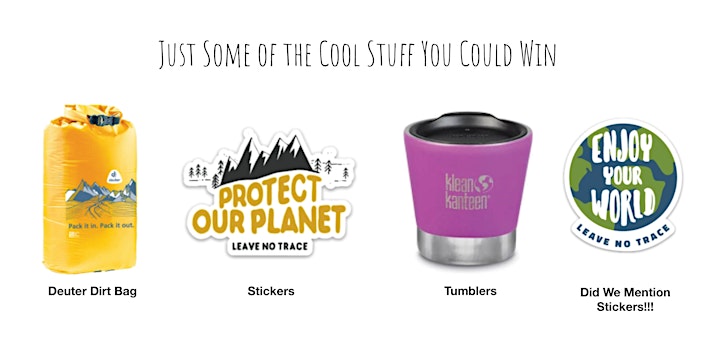 Join Us for a Chance to Win a:
Kula Cloth | Kula Mug | Deuter Dirt Bags | Klean Kanteen Tumbler | Stickers
Topics to include:
How to prepare for outdoor adventures and outings to minimize risk and impact
What to do when there is no bathroom, why trash and dog waste should be packed out, what to do with dirty dishwater
How to build a Leave No Trace campfire to prevent harming ecosystems
How to protect trees and vegetation in your campsite or picnic area, and the best ways to hike on and off trails
Why leaving your mark is overrated and how to avoid spreading invasive species
The best ways to interact with wildlife on trails, at camp or your local park
Ways to share trails and prevent user conflicts

The Subaru/Leave No Trace Teams provide proven, research-based skills and education for getting outside in an environmentally sustainable way. Join one of the teams for fun and engaging activities to learn how to minimize our impacts and take care of the outdoors.
Leave No Trace Trivia Night will be followed by 3-Weeks of In Depth Leave No Trace Classes (Nov. 2, 9, 16) designed to teach you the seven principles of LNT as well as other tips and tricks to protecting the places you love.
About Your Presenters: Erin Collier and Brice Esplin

Subaru/Leave No Trace Team members, Erin Collier and Brice Esplin use their combined experience in education, stewardship, marketing and communications to teach Leave No Trace ethics and create unique content for our online audience.