Leave Learning Disabilities Behind: The Arrowsmith Program
Description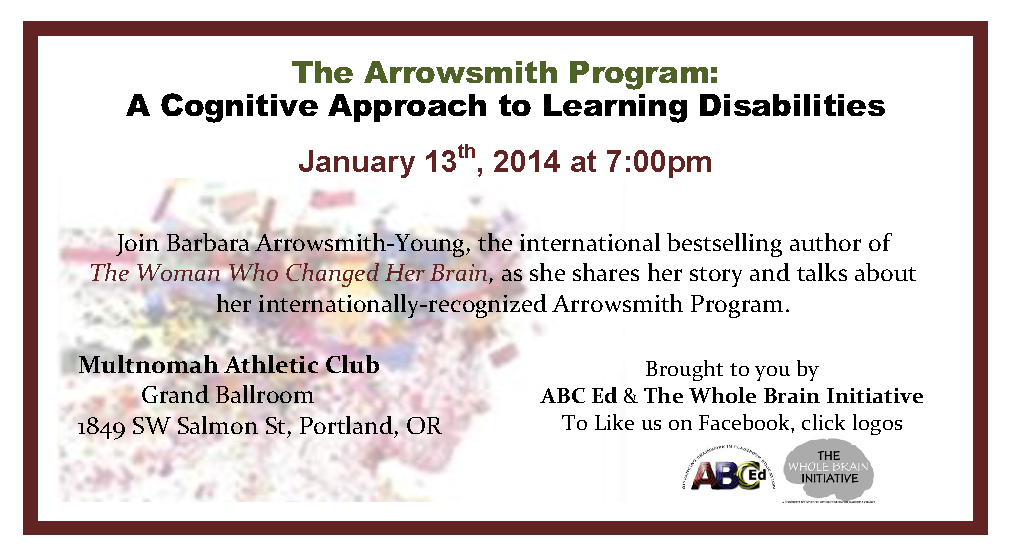 The Arrowsmith Program:
A Cognitive Approach to Learning Disabilites
with Barbara Arrowsmith-Young, author of the International Bestseller 'The Woman Who Changed Her Brain' and Founder of the Arrowsmith Program
Doors open at 6 pm. Talk begins at 7 pm. Books will be available for purchase with book signing following the event. Join us!
The Arrowsmith Program is not tutoring. It is a program within a school that addresses the underlying cognitive challenges that prevent our kids from learning. Within 2-4 years, the majority of kids with mild to severe learning and attention challenges join their classmates at grade level without compensations or aides. Pretty great stuff!
Through neuroplasticity (changing the brain), the Arrowsmith program actually increases the learning capacities of students with learning and attention challlenges. So instead of compensating, the program actually changes the brain so a child can learn. There are over 30 years of proven life-changing results!
The Arrowsmith Program could be the answer for your child or student.

Click here to see if your child would benefit from the Arrowsmith Program:http://bit.ly/arrowsmithlearningchallengesaddressed

Click here to see if your child has any of these learning challenges - and the changes you could expect from the Arrowsmith Program:http://bit.ly/arrowsmithlearningoutcomes
Please join us!