Description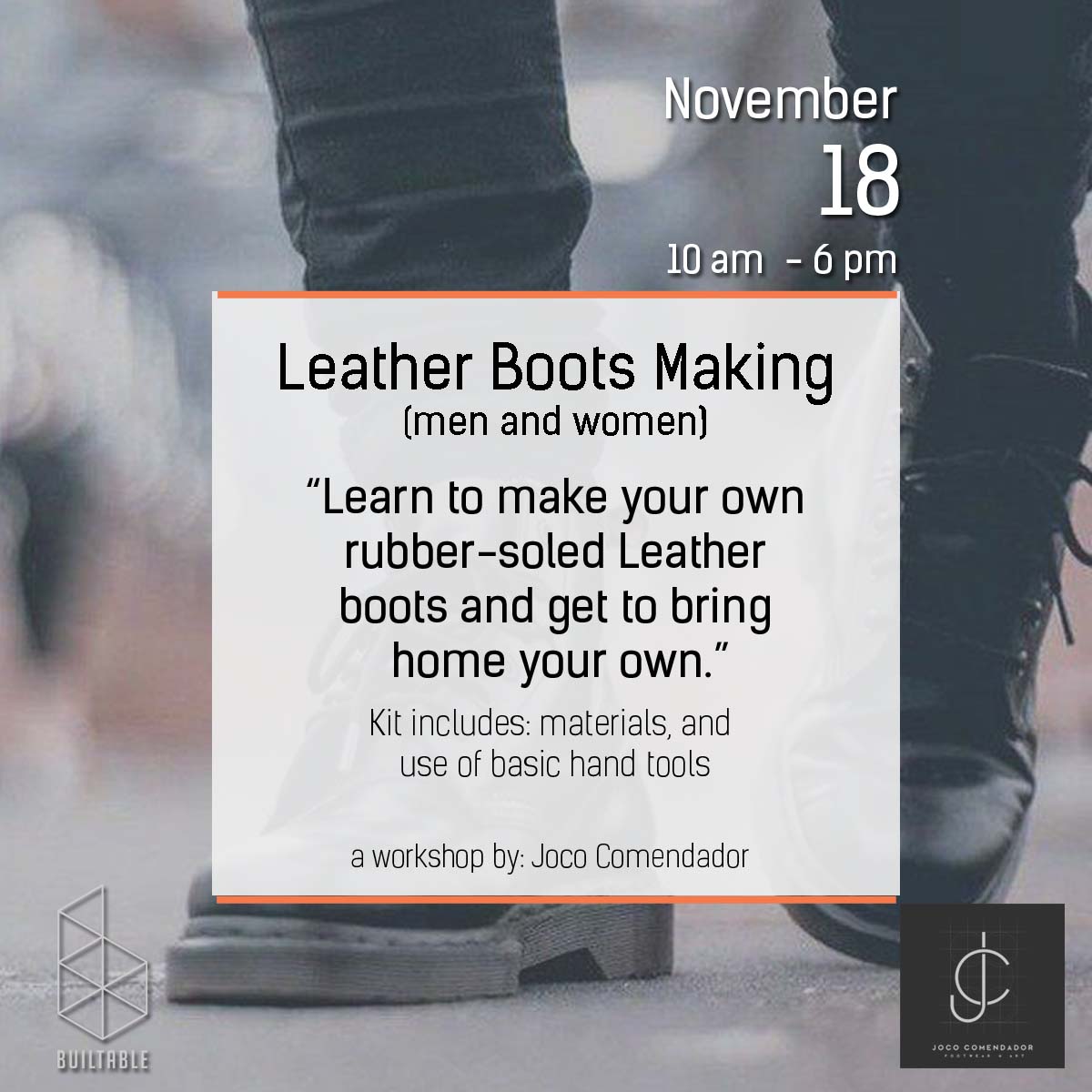 Learn to make your own rubber-soled Leather boots and get to bring home your own.
About the Facilitator:
Joco Comendador: Footwear + Art is a made-to-order, custom-made leather footwear making brand that is located at business-center of Marikina City. Run by the owner itself, Joco Comendador,this brand has be run by immense passion on hand-made footwear & leathercraft making.
EVENT DATE:
November 04, 2017
10:00 AM - 6:00 PM
EVENT FEE:
Early Bird - Php 4,990 (Until Oct 30, 2017)
Normal Rate - Php 5,290 (Until Nov 3, 2017)
**Inclusion of Lunch
** Inclusion of raw materials and tools for shoe making
THINGS TO BRING:
Inform us your shoe size once you reserve your slots!
PROGRAM:
A. Lecture
- intro to handcraft shoemaking in the country
- introduction to tools and mats
- brief intro to boots style
B. Pattern tracing
C. Upper Making
D. Lasting
E. Sole attaching
F. Finishing
G. Last Pointers
HOW TO RESERVE
1.Confirm slot via SMS, Email, Eventbrite ticket or MeetupPH
CONTACT PERSON
Rizza
+63 917 7270288
EMAIL
connect@builtable.co
2.provide your full payment through bank deposit
Metrobank Acct:
CTT.Synergy Corporation
Metrobank Acct No.
0 007 881 000 616
or
BDO Acct:
CTT.Synery Corporation
BDO Acct No.
000668083218
or
paypal
3.send us a proof of your payment (Scanned/Picture of Deposit Slip or payment) and shoe size