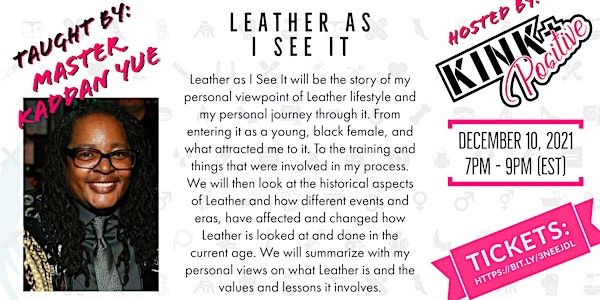 Leather As I See It
Leather as I See It will be the story of my personal viewpoint of Leather lifestyle and my personal journey through it.
Refund Policy
Contact the organizer to request a refund.
Eventbrite's fee is nonrefundable.
About this event
Leather as I See It will be the story of my personal viewpoint of Leather lifestyle and my personal journey through it. From entering it as a young, black female, and what attracted me to it. To the training and things that were involved in my process. We will then look at the historical aspects of Leather and how different events and eras, have affected and changed how Leather is looked at and done in the current age. We will summarize with my personal views on what Leather is and the values and lessons it involves.
---
Attendance Agreements:
Due to the adult nature of the classes, all attendees must be at least 18 years of age. By obtaining a ticket you agree that you meet this minimum age requirement. Any under-age persons will be removed from the class/discussion.
No recording of any kind is permitted of the class, video, or audio whether it is the instructor, the audience, or shared screen images. Do not re-broadcast the content to other media outlets, screenshot any part of the class, or share information about people you saw within the class or their stories. By attending you agree to the above restrictions regarding information sharing.
---
About Kink Positive:
Kink+ (or "Kink Positive") is a project designed to help spread information, experience, and knowledge in all things related to kink and sex positive thinking.
---
Presenter Bio:
Master Kaddan Yue, Northeast LeatherWoman 2020-2021 and founding sister of ONYX Pearls NY/Northeast, has more than 40 years experience living the lifestyle. After spending her initial seven years in the lifestyle "training from the bottom up," she has become the third generation of her The House of Yue line. Specializing in long-distance power exchange dynamics and outreach, Master Kaddan identifies as a Transient Transgender woman who has very strong masculine energy, I choose to dress masculine, my honorific is Sir. Master with a primary love is for fem lesbians and currently owns the House of Yue with a mix of females and a male. The structure of the house is trainees, slaves, and property who reside outside of the NYC Metro area.
Master Kaddan emphasizes strong communication skills in all aspects of the lifestyle. She holds a Professional Human Services Degree with emphasis on Cognitive and Behavioral Therapy and previously served for more than 18 years federal and state-level forensic populations including violent offenders, individuals with mental health issues, and individuals coping with HIV/AIDS. Now retired, her focus has shifted to being a Life Coach Consultant, building her household, the M/s community, and volunteering.
As part of her advocacy for healthy power exchange relationships and desire to broaden the definition of the BDSM community, Master Kaddan embraced technology to help share best practices, practical application, and mentoring beyond the bounds of real-time traditional Leather settings. In 2011, Master Kaddan's outside the box thinking led her to the Second Life (SL) platform, where she identified a gap in the online virtual world's BDSM groups, Master/slave dynamics were often misrepresented and/or misinterpreted.