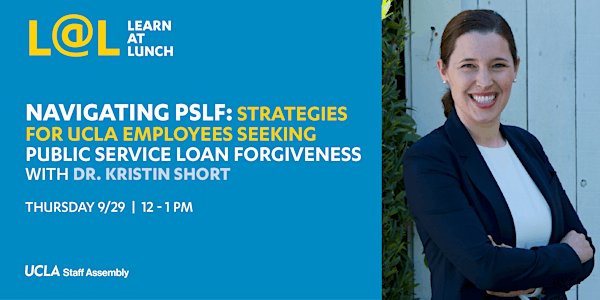 Learn@Lunch: Public Service Loan Forgiveness (PSLF) Program for UCLA Staff
Navigating PSLF: Strategies for UCLA Employees Seeking Public Service Loan Forgiveness
About this event
President Biden announced an executive order to cancel up to $20,000 in federal student loan debt for all borrowers with an individual income below $125,000 ($250,000 for joint tax filers). If you have federal student loans, you are also likely eligible for cancellation of your entire remaining federal debt following ten years of working full-time for UC (or another qualifying employer) and making loan payments.
Eligibility for the Public Service Loan Forgiveness (PSLF) program has been expanded under a time-limited waiver that currently expires October 31, 2022. Even borrowers who were previously ineligible or missed payments can now receive PSLF.
As aqualifying tax-exempt organization, all UCLA employees with federal student loans are eligible to make progress towards PSLF. Please visit the UC Public Service Loan Forgiveness (PSLF) page to check your eligibility and start your application. We expect a surge of applicants who will need their UC employment certified well before the October 31 deadline, so it's important to apply right away.
https://ucnet.universityofcalifornia.edu/working-at-uc/public-service-loan-forgiveness.html
UCLA Staff can obtain information from the UCOP website (www.ucop.edu) and do not need to pay for a financial planner but you may, if you would like to.
Dr. Kristin Short will present at our L@L Program on September 29th, to talk further about the Public Service Loan Forgivness Program. Please be sure to register and reserve a free ticket to attend the online webinar. Dr. Kristin Short is a fee-only comprehensive financial planner, educator, and researcher. She holds the Series 65 license administered by FINRA and is a Candidate for CFP® certification granted by the Certified Financial Planner Board of Standards, Inc. ("CFP Board").
Kristin J. Short, Ph.D.
kristin@radixfinancial.com
www.radixfinancial.com