Description
Do you get stressed around the Holidays? It is possible to survive the holiday frenzy without feeling frantic -- if you know how. Although the holidays are meant to be a joyful time, too often the holiday season evolves into a time crunch with a long list of tasks and unreasonable expectations. Learn how to avoid stress during the holidays whenever possible, and how to deal with the inevitable stressors you WILL face not only during the holidays but throughout your life. The key to living a happier life with less stress is by staying in alignment with your Spirit-Mind-Body, and learning to Be.
The true meaning of Christmas and all the Joy it represents gets lost in doing instead of Being. Join us for this workshop If you'd like to Be more:
- Peaceful
- Patient
- Loving
- Giving
- Kind
- Present
- Mindful
- Joyful
- Grateful
Here's what you can expect during our workshop:
First, we will provide you with a deeper understanding of who you are, by identifying your core values, strengths, challenges, and find ways you can connect on a deeper level with your highest self. We will learn why being aligned in you Spirit/Mind/Body (in that order) is critical to your joy in life, and what it feels like when we aren't aligned. This will allow you to identify what may be triggering higher stress levels than normal and how to center and ground yourself with easy practices you can implement right away. We will cover Self-Awareness, Self-Transformation, Self-Love, and Self-Actualization and what each of these steps entail, as well what they might look and feel like to you. This initial process is key to having more confidence, clarity, and courage to begin to design the life you desire for yourself.
You will learn ways to become the Observer in life, not the Absorber, and be capable of walking into any environment and holding a positive and powerful space for yourself. These tools and practices will help you enjoy the true magic of the entire Holiday season and beyond.

Our facilitator, Tilde Guajardo, the creator of The Identity Quotient (The New I.Q), is a Certified Positive Psychology Practitioner, and a Certified Small Flourishing Group Facilitator. She struggled for years with anger, fear, and shame due to experiencing childhood trauma. Her life changed the day she experienced a miraculous healing, which reminded her how much she was loved by God. This inspired her on a life-long journey to dive deeper into studying and developing an intimate relationship with God, and to learn practical ways to overcome past hurts and lead a joyful life. She found profound healing by combining both Spiritual and Positive Psychology practices. Her powerful life transformation and passion to empower other women inspired the creation of "The Identity Quotient", which reminds women "who they are", "whose they are", and "how powerful we really are when fully aligned". It explains the importance and power of the Spirit-Mind-Body connection to obtain our highest human potential and thrive in every area of our life.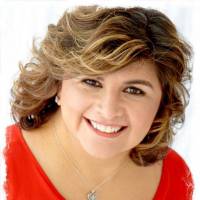 LIMITED SEATS: We are limiting this workshop to 10 women in order to create an intimate and immersive environment and provide individual support.