Join Us for Our 11th Annual Gadgetfest!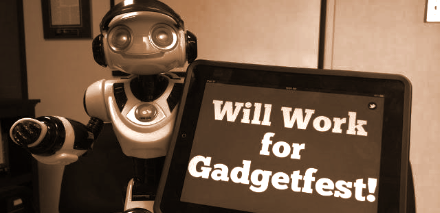 Every December Since 2004 we have held a special holiday edition of our Learning Lunch, celebrating the latest and greatest gadgets. Each year local gadget enthusiasts present their most recent fascination and local tech companies display their latest innovation.
For Gadgetfest 11 we are expecting a bountiful display of gadgets in addition to a handsome array of prizes. Join us or miss out on this year's greatest gadgets. 
If you are interested in presenting your coolest toy at this year's Gadgetfest please register as a single gadget presenter.
GADGETFEST 11
a GSATC Holiday Learning Lunch
Presented by: Upstate Gadgeteers
Date: Wednesday, December 17, 2014
Time: 11:30 AM - 1:30 PM