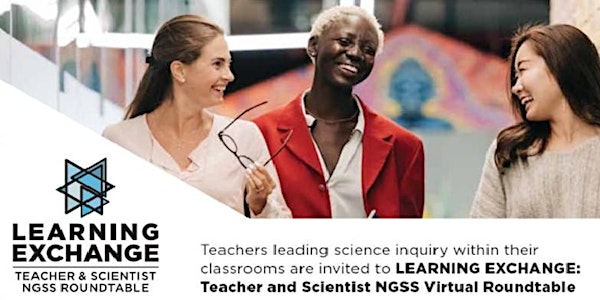 Learning Exchange: Teacher and Scientist NGSS Virtual Roundtable
Learning Exchange: Teacher and Scientist NGSS Roundtable is a virtual professional development event for teachers leading science inquiry.
About this event
Who should attend?
We welcome and encourage middle school and high school teachers leading science inquiry to attend our Learning Exchange: Teacher and Scientist Roundtable scheduled for Thursday, November 3, 2022 from 4:30pm to 7pm. Teacher-Scientist Roundtable is a one-day professional development experience for teachers in the San Diego area. Participating teachers will have a chance to interact with UC San Diego MRSEC scientists in small groups as well as network with fellow teachers.
Goals:
Join your fellow teachers to:
Examine different approaches to hands-on science learning including gaining greater confidence with science content
Explore Next Generation Science Standards (NGSS) science and engineering practices (SEPs) and make connections to real world application
Engage in inquiry and networking alongside UC San Diego Materials Research and Science (MRSEC) scientists
Learn more about Materials Science and Engineering and its educational outreach offerings to teachers and students
Teacher-Scientist Roundtable Registration will be open until capacity has been reached. We anticipate being able to generate a wait-list in the event a spot becomes available.
Stipend Information and Payment
Teacher Stipends: Teachers who successfully meet the criteria are eligible for a $100 stipend for their participation.
Please keep in mind that in addition to registering through Eventbrite, registration is not complete until the Fleet Science Center's Teacher Programs has received teachers' W-9 Form – available here: https://www.irs.gov/forms-pubs/about-form-w-9
W-9 Forms can be submitted via email to schoolprograms@rhfleet.org
Eligible participants will receive payment of stipend upon completion and submission of all required criteria. The Fleet Science Center will be responsible for the distribution of the stipend payments via mail.