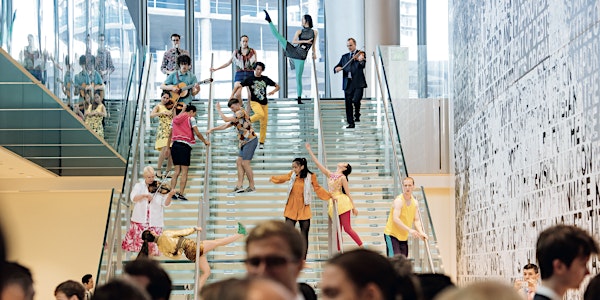 Learning and Teaching: A Celebration of Excellence
A day of interactive presentations about colleagues' explorations in pedagogic practice. Open to all Trinity Laban teaching staff.
When and where
Location
Laban Building Creekside London SE8 3DZ United Kingdom
About this event
TL staff, please join us for this new event. Refreshments, lunch and networking drinks are included! If you can't make the whole event, please feel free to register and to drop in for some of the sessions. Times below may be subject to change.
#TLteachingexcellence
09.30-10.00 Arrival / Refreshments
10.00-10.15 Welcome
10.15-10.55 Keynote: Hans Koller, Head of Jazz
Learning by Living: Tales of Mystery and Meaning from the Community of Improvisers
10.55-11.15 Objectivity of intensity - The difference between intensity and complexity
Khyle Eccles, Lecturer in Dance
11.15-11.30 Break / Refreshments
11.30-12.10 Centaurs and Griffins – Lessons from Hybrid Teaching and Learning in the Covid Tail
Tim Palmer, Head of Music Education, Helen Burgess, Teaching Musician Student, Dr Rob Wells, Lecturer in Music Education, Janet Munro, Lecturer in Music Education and David Quinn, MA Teaching Musician Student
12.10-12.30 Blended learning: Piano pedagogy class, 2021-22
Penelope Roskell, Professor of Piano and Pedagogy
12.30-13.30 Lunch
13.30-13.50 Blended learning approaches to enhance student engagement and learning
Dr Koel Chatterjee, Lecturer, Integrated English, Centre for Educational Futures and Catherine Haber, Programme Leader, MSc and MFA Dance Science
Audience, please have your phones ready , to explore Kahoot with Koel!
13.50-14.10 Improvised belonging: embodying a teaching initiative to improve student belonging at Trinity Laban
Dr Daniel Hartley, Postdoctoral Research Fellow and Developer, Roxanna Albayati, Graduate Researcher and Jared Michaud, Teaching Musician Graduate Forum Moderator
Audience, for Daniel and Roxanna's presentation, please feel free to bring a musical instrument - and come ready to play!
14.10-14.30 Innovative and Creative Approaches to Participatory Dance and Music Practice in Arts and Health
Stella Howard, Dance Artist, L&P Dance and Natasha Lohan, Music Artist. Introduced by Jasmine Wilson, Head of Public Engagement
14.30-15.10 Break / Refreshments
15.10-15.30 Ten irreverent commandments for the musician
Gabriella Dall'Olio, Head of Harp Studies & Harp Chamber Music
15.30-15.50 What Am I Doing Here? New ideas from the Composition Department
Professor Dominic Murcott, Head of Composition
15.50-16.15 Discussion / wrap up
16.15-18.00 Drinks and Networking