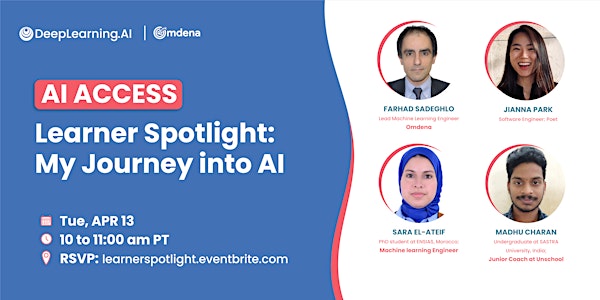 Learner Spotlight: My Journey into AI
Hear from a panel of MLEs sharing their first-hand experience and practical tips on building their AI career from different backgrounds.
Date and time
Tuesday, April 13, 2021 · 10 - 11am PDT
About this event
If you are an AI and machine learning beginner looking for guidance on the career path, curious about where to start or is this even the right job for you, come join us at the virtual event on April 13.
DeepLearning.AI, in partnership with Omdena, has assembled a panel of machine learning practitioners who have gotten into the field from different paths. They will be sharing their personal experience and suggestions on how to build your career in AI.
The event will start off with a panel discussion and follow with a Q&A session. We'll be using Slido for Q&A. Please note that only the people who sign up for the Slido ticket will have access to Slido to post and upvote questions.
How to access the event:
This is a virtual event. Below you can find the online access links, including a YouTube link and a Slido link where you can submit/upvote questions :
After registering, you'll receive an order confirmation email which includes the links
You can also find them in the reminder email sent 3 days before the event.
Alternatively, you can log in to your Eventbrite account and access the online event page.
Can't attend the live YouTube event? Don't worry. Register now to get the recorded session.
About speakers:
Jianna Park: Jianna Park is a software engineer and a published poet. She currently lives in Brooklyn, New York.
Sara El Ateif: Sara is a machine learning geek with roots in software engineering. She contributes actively with international communities and business holders to create a positive impact using AI by creating, structuring and improving deep learning models. She architects and helps to implement innovative and helpful solutions. She actively mentors AI enthusiasts, organizes, and speaks at local and international events.
Her current research Interests are Computer Vision, Deep Learning, Visual Interpretation & Understanding, Human behavior analysis and Healthcare. She is currently a Ph.D. student at ENSIAS, UM5R in Morocco.
Madhu Charan: Madhu Charan is an undergraduate junior year student at SASTRA University, India as well as a Machine Learning Engineer at Omdena. He works as a junior coach at school, where he mentors students in Artificial Intelligence and also a Project Manager at Kampus group with a mission to provide free consulting services to local businesses in the United States that have been affected by COVID-19. Madhu is an open-source enthusiast and regularly contributes to it. He loves connecting with people and exploring new technologies.
Farhad Sadeghlo: Farhad Sadeghlo has a bachelor's degree in Mechatronics Engineering from the Sharif University of Technology and a Master of Mechanical Engineering from Ryerson University. Over the past 2 years, Farhad has made a career switch to Data Science with hands-on programming. Andrew Ng and Deeplearning.ai were some of the resources he used that made him feel confident to pursue huis change of career. He is currently working at Omdena as a collaborator to reach higher goals and has a reached substantial growth in his experiences.

About Omdena
Omdena is a collaborative platform and social enterprise where a global community of changemakers builds innovative and ethical AI solutions to real-world problems. Our platform enables end-to-end AI development where organizations submit a problem, which is then addressed by up to 60 AI experts, data scientists, and domain experts. To learn more, visit https://omdena.com/.
About the organizer
DeepLearning.AI was founded in 2017 by machine learning and education pioneer Andrew Ng to fill a need for world-class AI education.