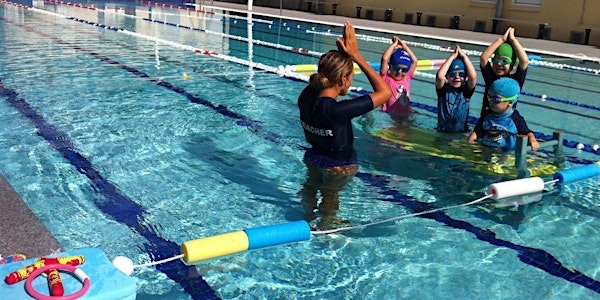 Learn to Swim Holiday Intensive & Squad Boot Camp - September 2021
5 day Learn to Swim Intensive & Squad Boot Camp Get the kids safe for summer play dates and fit for the swimming season
When and where
Location
Wynnum State School 81 Boxgrove Avenue Wynnum, QLD 4178 Australia
About this event
5 day Learn to Swim Intensive & Squad Boot Camp
Get the kids safe for summer play dates and holidays, fit for the swimming season ahead or keep them busy for a week. Whatever the motive, join us for our season opener Holiday Learn to Swim Intensive & Squad Boot Camp: Monday 27th September - Friday 1st October at Wynnum SS Memorial Pool.
Lessons run at the same time each day, with the same teacher and classmates and are designed to give the children's swimming a start or a boost, encourage water safety & familiarity and build confidence for Summer water activities. Consecutive classes over the week quickly build confidence and develop the children's skills, as it's only 24 hours since they were last in the pool.
Call Rachel & Matthew on 0401440359 or email swim@baysideswimschool.com.au if you're not sure which level your child is in and we'll help you get registered.
Times:
8:30 - 9:15am -  Kickers, Arms, Breathers, Finlets ($99)
9:15 - 9:45am - Paddlers ($99)
9:15 - 10:00am - Arms, Breathers, Finlets ($99)
9:15 - 10:15am - Fins ($99)
10:15 - 11:15am - Mini/ Junior/ Senior/ Comp Squad ($70)
For information on classes and levels, please visit: http://baysideswimschool.com.au/our-classes/