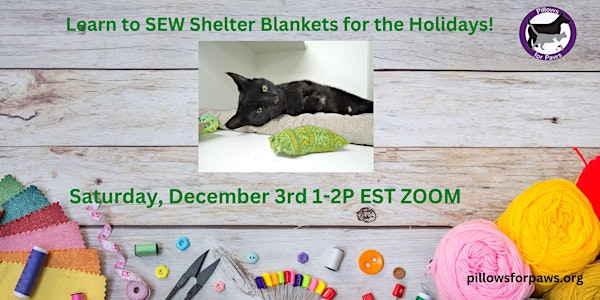 Learn to SEW Animal Shelter Blankets & Beds for the Holidays!
Please join us for a special Holiday edition of "Learn how to Sew Shelter Blankets and Beds "for your local animal rescues or shelters.
About this event
The Holiday season is a great time to learn how to make these comfort items for your local animal rescues. Most shelter animals will spend the Holidays alone, so giving them a bed to snuggle with would mean the world to them.
In this workshop, you will learn how to make our signature Pillows for Paws shelter beds and blankets that we donate to our city shelters in NYC.
These are basic beds and can be used in most animal shelters everywhere.
You will learn:
1) How to sew our basic shelter fleece blanket.
2) How to make our beds using batting.
3) How to make catnip toys with the scraps.
You can sew along with us during the session or just sit in and listen!
For those sewing, you will need a threaded machine, scissors & fabric (fleece, cotton, old sheets, pillowcases, machine washable fabrics). This class is for people who has access to a sewing machine and is comfortable with the basic skills of using one.
https://pillowsforpaws.org/diy