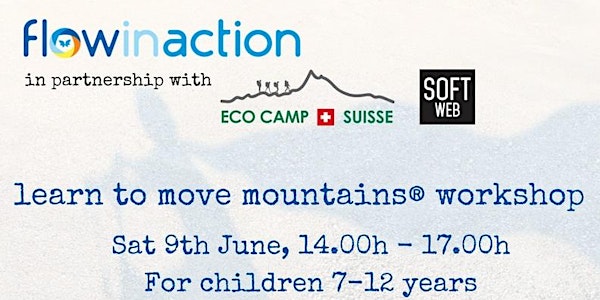 learn to move mountains® kids innovation workshop with EcoCampSuisse
When and where
Location
Chalet Martin Route du Villars 3 1882 Gryon Switzerland
Description
Beat Plastic Pollution in our Mountains and Lakes: let's reinvent snowsports to leave no trace
The workshop empowers children (7 -12 years old) to be happy agents of change!
Every child's creativity counts in this inclusive, fun workshop where all ideas count. They bring their brilliant, beautiful, unique imaginations and we play with ideas to change the world.
It is a 'change-maker space' where we take on a Sustainable Development Goal, exploring how we can solve it with incredible inventions.
We dream big, mash-up all of our creativity, riff on innovative solutions to big challenges, build prototypes from trash, tell the story of our inventions – everything is possible when we play like this!
We empower children to make a positive impact on their communities, building their resilience, wellbeing and entrepreneurial mind-set, equipping them with the skills for solving real-world challenges now.
After the workshop, Elaine shares a montage of the prototypes to innovation experts such as Professor Jonathan Rossiter, Professor of Robotics at the University of Bristol.
Your kids will leave the workshop as happy, hopeful, confident adventurers, believing in their problem-solving creativity.
Playing, inventing and laughing: what better way to spend a Saturday as a kid?