Description
NEXT Photography Workshops will be focusing on real techniques and strategies you can put into place immediately to improve your photography and career. If you're a beginner or mid-level, freelance or student this will be a workshop well worth it. Learn the top 3 light set ups to make money as a freelance/professional photographer. Learn to find and use light wherever you are. No crazy, hard to understand math. Lighting is a natural part of this world and it shouldn't be so complicated! Learn the language of light and how to use it to express your concepts. Creativity and technique is only half the battle. Marketing and vision is the other half! Learn to market for paying clients - not just for followers. This workshops is interactive. You will learn, write, and shoot and be better by the end of the day.
Workshop is lead by Christiana Lucratif, a professional photographer in downtown Los Angeles who has worked with publications, celebrities, influencers, and clothing brands. Christiana's style and subject vary; shooting product, lifestyle, editorial, landscape, and portraits. Christiana has taught several students in one-on-one settings and the NEXT series will introduce interactive, small group workshops where students will get that one-on-one feeling and support.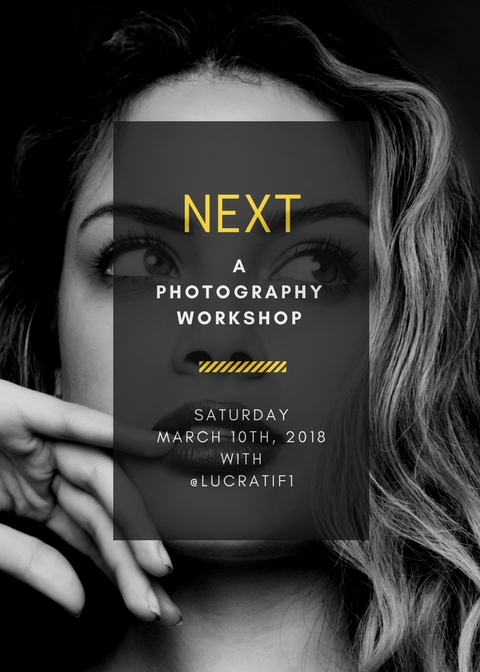 * Shoot with professional models, make up artists, hair stylists, and learn professional skills and techniques from a pro that will improve your photography by the end of the day.

* Master Lighting indoors and out, find and create light anywhere.

* Expanding your vision, purpose and creative path.

* Marketing for the Next Level.

* Receive hand outs and take home assignments to continue growing.
* Coffee and bagels in the morning for a meet and greet.
​
* Hot, delicious lunch included.
* Optional Beer/Wine discussion, edit, present session.... Bring your laptops is you'd like to stay and edit! Critique and further Q&A is available free of charge. Great time to network with models and peers, put your new techniques to use.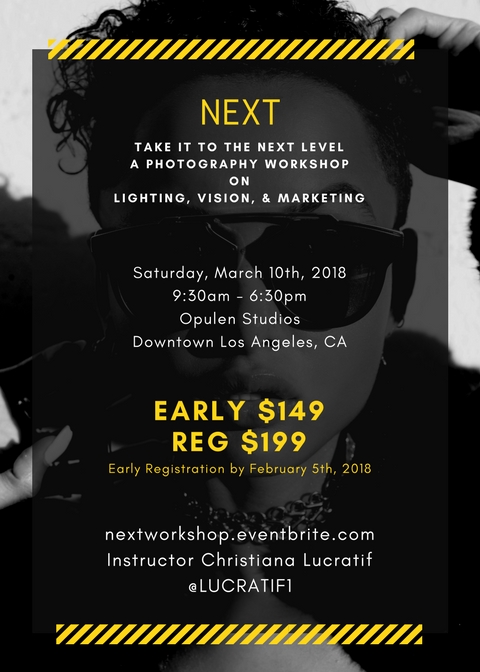 Workshop Instructor:
Christiana Lucratif Valenzuela
Instagram @Lucratif1
Site: www.lucratifphotography.com