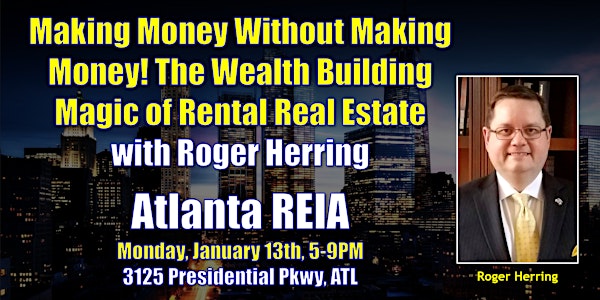 Learn to Make Money Without Making Money at Atlanta REIA with Roger Herring
When and where
Location
City of Light 3125 Presidential Parkway Atlanta, GA 30340
Description
Atlanta REIA Main Meeting
& Vendor Trade Show
Mon, January 13th, 2019
3125 Presidential Pkwy, Atlanta, GA
Making Money Without Making Money! The Wealth Building Magic of Rental Real Estate with "The Investor's Accountant" Roger Herring
Atlanta REIA Members Can Attend for no charge. Guests Can RSVP Online Now for $20 or Pay $25 at the Door.
43% or MORE! That's how much of YOUR INCOME you could give back to the government! Once you have MADE the money, wouldn't it be great to KEEP IT? There's a way and it is perfect for you!
You got into real estate because it is big money and awesome tax breaks. Then you go to your accountant at tax time and you find out you owe a whole pile of money! What happened to the tax breaks? They are plenty of tax breaks for real estate, but you don't qualify because you're in the wrong kind of real estate or only doing real estate one way.
When people think of real estate investment, they're often thinking about flipping or wholesaling property. After all its fast and its sexy. The problem is these activities generate ordinary income, the most taxed income there is! How do you shelter it? The answer is traditional rental properties!
It is no secret that most investors have built real long-term wealth using traditional rentals. Why does it work? Because rentals have extremely favorable tax treatment: We get to reduce income now. We get preferential treatment on sales. We can even defer our gains indefinitely.
Come to the Atlanta REIA Main Meeting on Monday, January 13th and let me show you why I have clients that have PAID NO TAX in over 10 years! I call it "Making Money Without Making Money."
Join me at Atlanta REIA and you will learn:
The Power of the IRS Designation Real Estate Professional
The Phantom Loss: What it is and how we create it
Depreciation Strategy: The landlord's best friend
Cost Segregation Strategies
Using 1031 exchanges
Other People's Money-Correctly using leverage
It's your MONEY. Come out on Monday, January 13th from 5PM to 9PM at the Atlanta REIA Monthly Meeting at 3125 Presidential Pkwy, Atlanta, GA and let me show you how to protect it from the TAXMAN!
---------------
Meeting Before the Meeting
The High Tech Home Buyers Creative Deal Makers Subgroup
with

Don DeRosa
Join Don DeRosa every month at 5PM SHARP at our Meeting-Before-the-Meeting that we like to call the High Tech Home Buying Creative Deal Structuring Subgroup one hour BEFORE the Atlanta REIA Main Monthly Event.
Each month, Don will teach you about different real estate investing purchase and sale strategies to put more money in your pocket as as well as state-of-the-art tools and techniques you'll use to evaluate deals and figure out how to make them work. You'll learn to work less and earn more so you can spend more time where you want, when you want and with whom you want.
---------------
Atlanta REIA Diamond Sponsors
New Western Acquisitions - A full service Real Estate Brokerage that specializes in helping investors in acquiring inventory, securing contractors and lenders, as well as aiding in the liquidation of these assets.
#ATLANTAREIA