Description
Event Schedule:
This is a two session class that runs a consecutive Saturday and Sunday afternoon: choose your date from the drop down menu.
Session 1: Saturday, 2/17/2018, 1:30 PM - 4:00 PM
Session 2: Sunday, 2/18/2018, 1:30 PM - 4:00 PM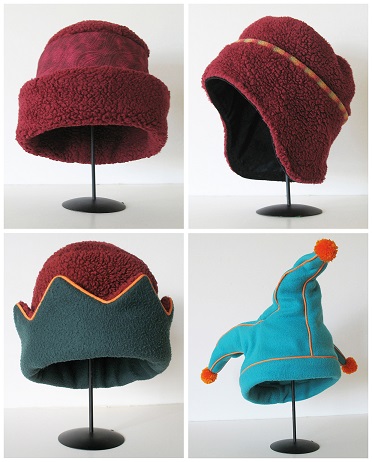 Class Description:
In this class, you'll learn to make fabulous one-of-a kind art hats from polar fleece and perhaps other fabrics, for yourself or to give as gifts! The process will include cutting fabric, using patterns and making one or two fabulous hats that will keep you (or some other lucky person) warm and looking great for the winter! Students with prior sewing experience will have the option of making their own patterns!
There will be sewing machines available for use in the classroom as well.

Class Goals:
• Work with patterns, or design your hat(s) yourself, and make your own patterns
• Sew your hat(s) on a sewing machine
• At the end of class, leave with 1 or 2 finished hats

Prerequisites:
Students must be at least 18 years of age.
Materials:
These materials will be available for use during class:
Thread

Straightpins in pin cushions

Pencils/pens for marking fabric

Sewing scissors

A tape measure
Fleece fabric – if you'd like to bring your own, you can try upcycling from used clothing (~$5-10), used garments can be purchased from the Garment District's Buck-a-Pound (http://www.garment-district.com). New fleece can be bought at Sewfisticated in Twin City Plaza in Somerville (http://sewfisticated.com) and Fabric Corner in Arlington (http://www.fabriccornerinc.com)

Other fabric, buttons, cording, fringe and any other materials you might want to incorporate into your hat.


Class Minimum:
This class will not run with fewer than 3 students - join with a friend!
Instructor Biography:
Lenni has been sewing since she was big enough to sit at a sewing machine. She spent her childhood making my own clothes, pocketbooks and stuffed toys from second-hand clothes. She is now an artist and climate activist and a fan of the three Rs: reduce, reuse, and recyle!

She taught animation and interactive design for many years primarily at MassART and the New England School of Art and Design, and also for United Digital Artists, Interactive Factory and the Center for Digital Imaging Arts.

For more about Lenni: http://informmotion.biz/about/