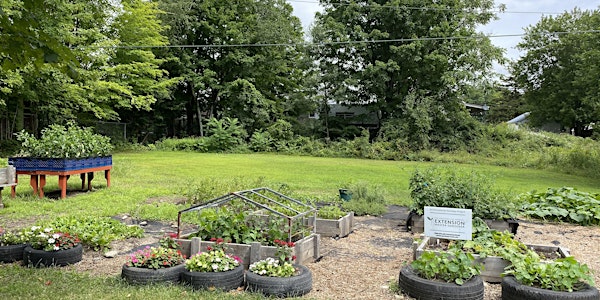 Learn to Grow Vegetables with UVM Extension Master Gardeners
Learn to Grow Vegetables with UVM Extension Community Horticulture Master Gardeners
About this event
In collaboration with UMAINE Extension, the UVM Extension Community Horticulture Master Garden progarm is offering a free vegetable gardening education series called Learn to Grow Vegetables with UVM Extension Community Horticulture. The series consists of 10 short videos produced by UMAINE Extension of approximately 15 minutes each on different vegetable gardening topics, followed by a live, facilitated Q & A session with a UVM Extension Master Gardener Educator.
The free series features a live bonus session on Saturday, May 22 on 'Extending the Growing Season with High and Low Tunnels', presented by Vermont Victory Garden Coordinator Gordon Clark.
The series is offered on ZOOM over 6 consecutive Saturdays from 9 am - 10 am beginning April 17 and continuing through May 22.
The series is open to the public and is intended for all ages of gardening enthusiasts, and anyone who would like to learn how to successfully grow vegetables in the home garden. The goal of the Learn to Grow Vegetables video series is to connect Extension Master Gardener educators with the general public to share their expertise on how to grow vegetables in Vermont's climate.
Topics include:
April 17, 9 am: Vegetable Gardening - Where to Begin & Planning Your Garden (live Q &A)
April 24, 9 am: Preparing Your Garden Soil & Planting (live Q &A)
May 1, 9 am: Managing Weeds & Watering Your Garden (live Q &A)
May 8, 9 am: Plant Diseases & Preserving the Harvest (live Q &A)
May 15, 9 am: Pain-Free Gardening & Preparing Your Garden for Winter (live Q &A)
May 22, Extending the Season with High and Low Tunnels (live presentation with Gordon Clark).
To make an accessibility request, please call or email Cindy Heath, 603-543-1307, cindy.heath@uvm.edu two weeks in advance of the first event. University of Vermont Extension provides equal opportunities in programs and employment.