Description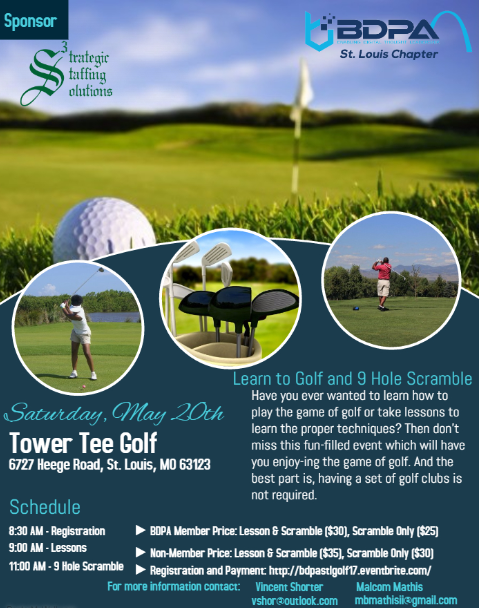 Have you ever wanted to learn how to play the game of golf or take lessons to learn the proper techniques? Then don't miss this full-filled event which will have you enjoying the game of golf. You will receive tips from some accomplished players and even get an opportunity to practice what you've learned while playing in a 9-Hole scramble. For the Scramble, we'll break up into teams and play the best ball. The game moves quickly and everybody plays. And the best part is that having a set of golf clubs is not required.
Saturday, June 24, 2017
Registration at 8:30 AM
Lessons start at 9:00 AM
9 Hole Scramble starts at 11:00 AM
Tower Tee Golf 6727 Heege Road St Louis, MO 63123 http://www.towertee.com/
All proceeds go toward supporting our students for the 2017 High School Computer Competition.
For more information:
Vincent Shorter – vrshor@outlook.com
Malcom Mathis - mbmathisii@gmail.com
Registration Deadline – June 23, 2017