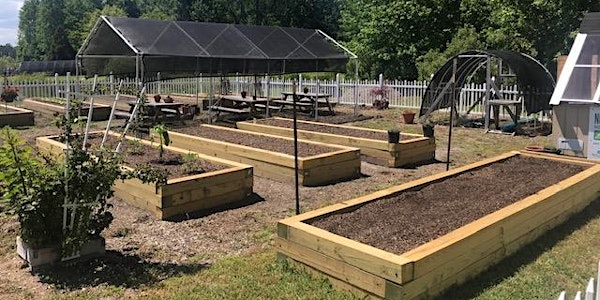 Learn to Garden - Ages 8 to 12
We invite youth ages 8 to 12 who wish to get involved in gardening to join us on Tuesday mornings in our community garden.
When and where
Location
N.C. Cooperative Extension, Currituck County Center 120 Community Way Barco, NC 27917
About this event
We invite youth ages 8 to 12 who wish to get involved in gardening to join us on Tuesday mornings from 9:00 am to 12:00 noon in our community garden to learn more about local foods and gardening techniques. We will be digging in the dirt, planting, harvesting, cultivating and just enjoying the fun of gardening. Our garden is located at the Cooperative Extension - Currituck Center behind the main building. The photo above is our garden.
Each week we will have hands-on gardening activities where we will have a lot of fun and may even learn something. We grow all sorts of vegetables and ornamental plants as well. We want you to roll up your sleeves and get your hands dirty!
Themes for each week:
Week 1 - Plant Growth and Development
Week 2 - Soils and Water
Week 3 - Ecology and Environmental Horticulture
Week 4 - Insects and Diseases
Week 5 - Landscape Horticulture
Week 6 - Fruits and Nuts
Week 7 - Vegetables and Herbs
Each session is approximately 3 hours in length and the cost is only $3, so register for some or all of the sessions. No experience is necessary!
We also accept cash and check payments in addition to paying via credit card through Eventbrite. Please, make checks payable to NC State University. Checks and cash payments can be received at the Currituck County office, 120 Community Way Barco NC 27917, within 5 days of registration.
Currently, in-person classes require masks to be worn for the duration of the class without exception. If you arrive without a mask one will be provided for you. We ask all participants to maintain six feet of distance while on the premises. We are following the current North Carolina mandates. If you are not able meet these requirements, or if you need accommodations for persons with disabilities please contact Billy Caudle at (252) 232-2261 or by email at billy_caudle@ncsu.edu no later than 10 business days prior to class.
NC State University and N.C. A&T State University commit themselves to positive action to secure equal opportunity regardless of race, color, national origin, religion, political beliefs, family and marital status, sex, age, veteran status, sexual identity, genetic information or disability. NC State, N.C. A&T, U.S. Department of Agriculture, and local governments cooperating.