About this Event
You've seen the sport in the Olympics, you've heard about it from someone you know, and you've thought, "hey, I wonder if I can do that?" Come find out for yourself! With no experience necessary, come on out to see what the roaring game is all about. Learn how to deliver a stone, and how to sweep it down the ice. Find out what hog lines, hacks, buttons, and houses all have to do with it. Bring your families out and learn together.
Our instructors will give you an overall understanding of what you need to play the game. You'll learn the basics of throwing, sweeping, and some basic game flow and strategy. By the end of just one session, you can be ready to join our leagues and master the game!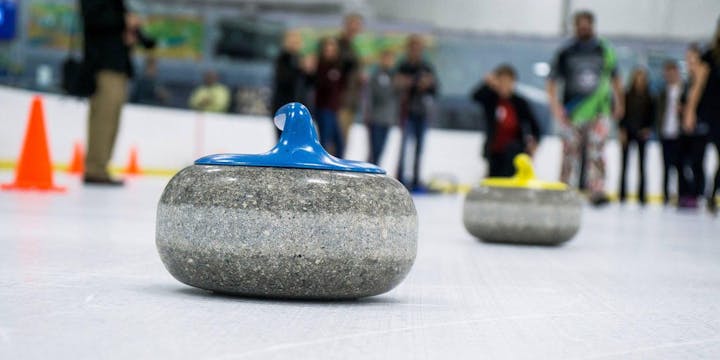 What to Wear
Please wear loose, comfortable clothing that you can lunge in (stretch!), warm socks, and rubber-soled, closed toe shoes. Sneakers work well. We suggest no Converse, Toms, or other low-profile soles—your feet will get cold! Dress in layers—it can be cold on the ice, but you'll warm up once you start sweeping.
Accessibility
Curling is an accessible sport and we welcome participants who use wheelchairs, and others with limited mobility. Use of arms and hands is required, but we can provide a delivery aid (delivery stick) to release the stone without bending down. Please contact us in advance if you have questions or to discuss any special accommodations.
Release Forms
All adult participants must sign Hollywood Curling's adult release form. All minor participants (under 18) must have their parent or guardian sign Hollywood Curling's minor release form. Any additional guests (photographers, spectators, etc.) must also provide a signed release form before being allowed on the ice.
At Pasadena Ice Skating Center, you will also be asked to sign the venue's own release form as you enter. Pasadena Ice Skating Center is a separate entity from Hollywood Curling.
Venue and Parking
This class will be held at Pasadena Ice Skating Center. Meet us inside the main entrance. We recommend that you arrive 10 minutes early. There is some free street parking available in the area, and paid parking structures nearby.