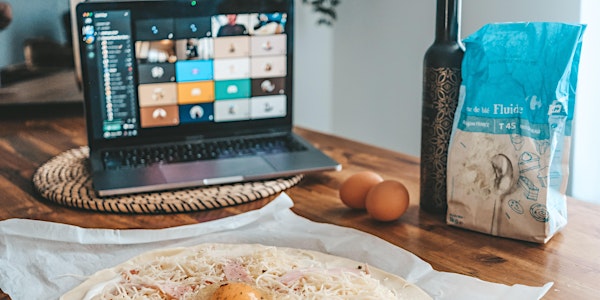 Multiple dates
Learn to cook - essential skills
Make Monday nights your Learn to cook without recipes Nights. We will focus on 1 subject only, focusing on Taste & Technique.
By chef Edie | learn to cook without recipes classes
Date and time
January 9 · 5pm - June 26 · 7:30pm PST
About this event
If you really want to learn to cook, join our Monday Night Learn to cook without recipes classes.
Each Monday, we will focus on 1 subject only instead of following a recipe (everyone else is already doing that!). That could be a cooking technique, an ingredient or a dish. You can sign up for as many classes you like, just pick the ones that intrigue you the most.
~
The calendar:
January 9: technique class: Boil, blanch & poach
January 16: Endless inspiration with Vinaigrettes & dressings
January 23: Hand made past: a fun skill
January 30: Ingredient in the spotlight: Carrots
February 6: knife skills
February 13: Braised chicken
February 20: -- no class --
February 27: technique class: Sauté & fry
March 6: roast a whole chicken
March 13: pan sauce
Mar 20: pilaf - a one pan rice dish
Mar 27: technique class: Roast
~
Future classes will be: Other cooking techniques like grilling, sautéing, etc. Knife skills. Risotto. Making a pan sauce. A perfect steak. Master your mashed potatoes. Etc. Contact us if you want to get updates on future classes.
~~~~~~~~~~
PLEASE NOTE: Be careful to sign up for the correct class, by selecting the correct date!
~~~~~~~~~~
For who are these classes?
For everyone who is yearning to become free of recipes. By understanding what happens in your pots and pans, you can learn to see other people's recipes as an inspiration, not as a strict guideline.
For a beginner, the live sessions might go a bit too fast or contain too much information, but each class will be followed up with an extensive email, and you have access to the recording for at least 1 week long.
What makes these classes different from other cooking classes?
At most, if not all, cooking classes (both virtual an in-person) the focus is on following a recipe, and if you're lucky you'll get a tip of two. Not at the Learn to cook without recipes classes. In our classes we will be breaking down the recipes and focus more on why we are doing what we are doing.
Recipes are merely a one person's way of describing what to do, not a rule book to live by. There are many ways to get to a similar end result, and we will focus on that! To make sure you know how you can derive from a recipe and make any dish the way that works for you!
I am gluten free, diary free, vegetarian, vegan (etc), is this cooking class for me?
Yes! We will try to make all our our classes accessible for everyone. We will cook meat, fish, and other possible allergens/ingredients you might not eat, but will always offer suggestions for alternatives. The goal is to empower you in the kitchen, to lean how to interpret recipes and become free of them.
~
About your chef
In her cooking classes, chef Edie loves to explain what happens in your pots and pans. In these 1 subject only cooking classes we will dive a bit deeper than just follow a recipe. It won't be super science-y, but often we will do experiments so you can taste the difference between various methods, cooking techniques or seasonings. All to empower you to get a bit looser with recipes so you can come a more confident and creative cook.
~
Note:
If you signed up, but can't make it you can always watch the recording which will be saved for 6 days.
Contact us if you have any questions or check the FAQ on our website
Frequently asked questions
How can you teach me to cook without recipes?
What makes this class different from others?
About the organizer
.
Learn to cook without recipes!
.
Online cooking school creative cook co is here to help you become a more confident and creative cook.
.
We firmly believe that recipes are merely guidelines, not a rule book. Therefor, we will teach classes on cooking techniques, organize workshops centered around one subject and put ingredients in a starring role. All to help you understand what is going on in your pots and pans - without getting too science-y.
.
A new online cooking class every Monday 5pm PT.
Always live. Always interactive. Always fun.
.
Sometimes it takes some time to update Eventbrite with our upcoming classes, so be sure to check out our website to see what we've cooked up, but not yet published here.
.
The kitchen is our playground and this is your invitation to play with food!
~ Follow us to get updates on our future classes ~