Description
Ready to advance your knitting skills by learning a new type of stitch? You know how to cast on, knit, purl and castoff, things that you learned in Jennifer's beginning knitting class; you're bored with basic knitting and purling and ready to learn more - so what's next? Kathleen is an Advanced knitter and she is ready to teach you her knitting skills, tips and tricks. Join her for this intermediate knitting class!
In this class you will learn how to do the cable stitch while making this adorable knitted headband. The cable stitch is probably one of the most common knitting stitches out there so it should be an essential part of your knitting repertoire.
Grab your supplies and head to our shop, or purchase supplies at class time and get 15% off!
Don't wait to sign up, these classes fill up fast - classes are limited to 6 people! This class is for knitters who already know how to cast on, knit, purl and castoff. NOTE: if you're looking for a beginner class please join Jennifer's beginning knitting class the 4th Sunday of each month!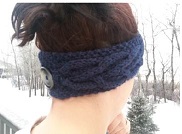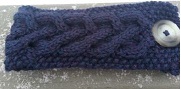 Our policies for all classes and workshops at Uptown Needle & Craftworks include:
• Full payment is due upon class registration. You may pay by credit card via telephone 504-302-9434 or Eventbrite. If you prefer to pay by cash or check your registration is not confirmed until payment is received.
• All class fees are refundable or transferable to another class if cancellation is made by telephone or email at least 72 hours before class start time.
• No refund or transfer of funds to another class is possible for cancellations with less than 72 hours notice or if you fail to show-up for a class you have registered and paid for.
* Depending upon each participant's skill level, you may or may not complete your project in class. You are always invited back to work on your project in our shop at a mutually convenient time.
By registering for this workshop you are agreeing to these policies. Thank you.