Learn to Build with WILLOW (a renewable resource), a workshop with Bim Willow!

Sunday, October 2, 2011 at 10:00 AM (EDT)
Event Details
Under the guidance of master furniture builder, BIM WILLOW, workshop attendees will make/take home a project(s) of their choice - see selections below. NO prior experience necessary! 
Willow is a renewable resource and is found in most parts of the US, including our area.  Learn how to create a functional piece of furniture (and a work of art!) using this incredible resource.

* MEMBERS OF EPPG and/or KIMBERTON WALDORF SCHOOL COMMUNITY RECEVE A DISCOUNT ON FEES - PLEASE DISCOUNTED FEES, LISTED IN RED BELOW
PLEASE bring a hammer (and a pair of pruners, if you have them - gloves are optional).  Be prepared to transport your creation home with you.

The price for each project varies (depending on the complexity of the piece).  Materials will be supplied, but you must choose their project(s) in advance.  
Times for various projects range from 1 1/2 hours to 5 hours; time estimates below are based on participants with NO prior building experience.
LOVESEAT
(~ 4.5 - 5 hrs. to complete) Regular fee = $325.00
*DISCOUNTED FEE FOR MEMBERS OF EPPG OR KIMBERTON WALDORF SCHOOL COMMUNITY MEMBERS = $305.00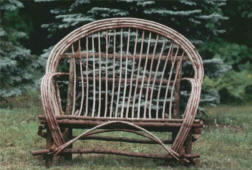 BAKERS RACK/POTTING BENCH
WITH 1 shelf (~ 3hrs. to complete) FEE = $195.00 
*DISCOUNTED FEE (1 shelf) = $190

WITH 2 shelves (~ 3.5 hrs. to complete) FEE = $230.00
*DISCOUNTED FEE (2 shelves) = $225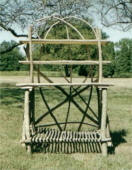 ROCKING CHAIR
(4.5 - 5 HRS. TO COMPLETE) regular FEE = $275.00
*DISCOUNTED FEE = $265.00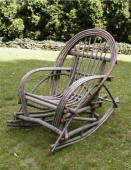 GARDEN BENCH
(2.5 - 3 HRS TO COMPLETE) FEE = $110
*DISCOUNTED FEE = $90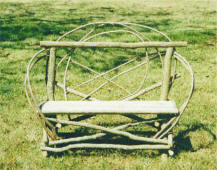 TRELLIS
(MINIMUM OF 2, YOUR CHOICE OF DESIGN FROM THOSE IN PHOTO BELOW)  REGULAR FEE = $60 (FOR BOTH)
*DISCOUNTED FEE = $55 (for both)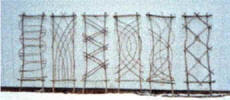 LADDER BACK CHAIR
(2 - 2.5 Hrs. to complete) FEE = $135
*DISCOUNTED FEE = $130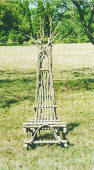 RUSTIC END TABLE/PLANT STAND
(1.5 - 2 HRS. TO COMPLETE)  REGULAR FEE = $55
*DISCOUNTED FEE = $50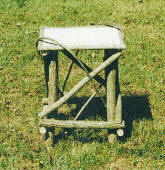 3 PIECE GARDEN ARBOR
(3.5 - 4 HRS TO COMPLETE) Regular FEE = $310
*DISCOUNTED FEE = $305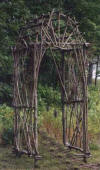 Bim will have a limited number of copies of books he's authored on the subject of building with willow for sale at the workshop (please see below):

In January of 2008, Bim contracted with Schiffer Publishing for 5 NEW books, which are being added below as they are released.  Many of Bim's customers are now including 'book signings' along with his classes.
Making Gypsy Willow Furniture.  Published in 1998, this book is STILL selling strong.  Complete step-by-step instructions with captioned pictures showing every step of completing an historical bent willow chair, an end table, or a whimsical tripod base for a hubcap birdbath.

  Making Rustic Twig Furniture (February 2009 release) is the sequel to Bim's first 'project book'.  As in the first edition, the projects are easily built by following the captioned pictures.  Instructions are straightforward and meant for students who prefer the least amount of words.  Directions for a baker's rack (or potting bench), a garden bench, and a free form 'sassy' chair are included.

Making Willow Furniture, Three Women Share Their Art.  Each of three leading rustic furniture makers, Veronica Chenier or Ontario, Cassilda Brown of Alabama, and Jo Kilmer of North Carolina, share their work with step-by-step instructions, documented by dozens of captioned pictures.  Learn to build a gothic backed chair, a  ladder back chair using mortise and tenon construction, or a bark lampshade. 

Naturally Furnished; Rustic Designs by Women Artisans.  A step-by-step guide for creating home furnishings from resources found in nature. The beautiful "green" results are, at the same time, beautiful, functional, and sustainable. Taking the reader through the projects are an international trio of talented women, working artisans who share their enthusiasm and skill for rustic furniture. Anita Willis of Arizona shows how to build a bow-back arm chair. Mary Jane Sussko of Ontario, Canada, makes a a low chair with a side table. Stella Larkin of Michigan takes driftwood harvested from the shores of streams and lakes to make a beautiful round mirror frame. Every step is carefully described and accompanied by a clear, informative, color photograph. This book will inform, inspire, and delight.
When & Where

KIMBERTON WALDORF SCHOOL
GARDENING COMPLEX
410 West Seven Stars Road
Phoenixville, 19460


Sunday, October 2, 2011 at 10:00 AM (EDT)
Add to my calendar
Organizer
Eastern PA Permaculture Guild & Permanent Future Regenerative Design Institute
Lectures, classses, workshops, and other events relating to becoming co-creators of the world in which we want to live. 
Permaculture is BEYOND sustainable ... it is REGENERATIVE! 
Membership in EPPG is free -- join us! www.meetup.com/permie

A PASA Sustainability Schools Partner!

Co-sponsor:
Permanent Future Institute:
Regenerative Design Consulting & Education permanentfuture@gmail.com
Learn to Build with WILLOW (a renewable resource), a workshop with Bim Willow!