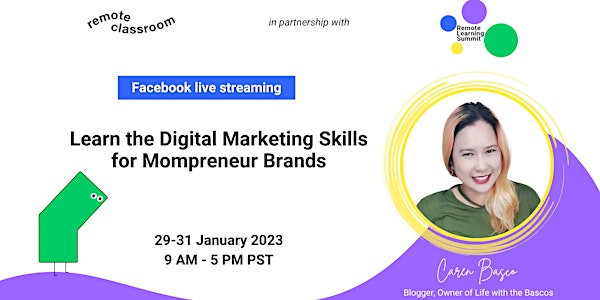 Learn the Digital Marketing Skills for Mompreneur Brands
Learn the Digital Marketing Skills for Mompreneur Brands
About this event
2 days 8 hours

Mobile eTicket
Ms. Caren Basco is a content creator and the owner of Life with the Bascos, where they share their candid moments, family bondings, parenting, reviews, recommendations and so much more.
Meet Ms. Caren as she talks about Learn the Digital Marketing Skills for Mompreneur Brands on 29-31 January 2023 from 9:00 AM to 5:00 PM.

Remote Learning Summit is back!
Remote Learning Summit 2023 gathers like-minded teachers and parents who share the love for children's improvement and success. With experts sharing their knowledge and resources, this summit promises to be a very special experience for all those in attendance.
This event provides an opportunity for Mommies that are experts on their field to share their knowledge and experience with others.
We believe that parents and educators have the ability to raise child-centered kids by providing them with opportunities to learn. That's why we're here: to discover what families can do at home, in school, and beyond, using technology. Our events are a place where children, parents, teachers and beyond can come together to explore these possibilities—with an eye toward helping more children engage in today's world.
We'll cover what makes a great learning community, how to adapt to change, new ways of teaching your child and much more.
Join us at our Remote Learning Summit 2023 event and don't miss this once-in-a-lifetime opportunity to be part of your child's wonderful learning journey!
Please follow @remoteclass for more updates
Send us a message.
📧 jenni@remoteclassroom.com
📱 m.me://remoteclass