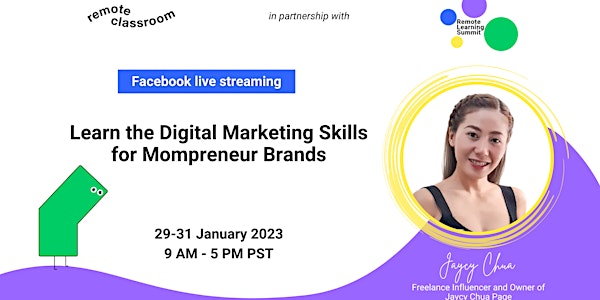 Learn the Digital Marketing Skills for Mompreneur Brands
Learn the Digital Marketing Skills for Mompreneur Brands
About this event
Ms. Jaycy Chua is a blogger and a digital creator. She has successfully endorsed numerous brands through her social media platforms. Her experiences in working as a blogger and an influencer while juggling her mom duties will certainly inspire and empower all Moms.
She started becoming an influencer during the outbreak of COVID-19 in the past year which she regarded as fun and a form of pass time while stuck at home. Her friends and followers unexpectedly grew which made her realize the value of influencers. Aside from the monetary reward that she gets from the brands that she endorses, she takes pride in her being a role model of staying organized, presentable, happy, and in balance despite the busy schedule of a mother. She also advocates and inspires her fellow Moms to prioritize their physical and emotional well-being.
Meet Ms. Jaycy as she talks about Learn the Digital Marketing Skills for Mompreneur Brands on 29-31 January 2023 from 9:00 AM to 5:00 PM.

Remote Learning Summit is back!
Remote Learning Summit 2023 gathers like-minded teachers and parents who share the love for children's improvement and success. With experts sharing their knowledge and resources, this summit promises to be a very special experience for all those in attendance.
This event provides an opportunity for Mommies that are experts on their field to share their knowledge and experience with others.
We believe that parents and educators have the ability to raise child-centered kids by providing them with opportunities to learn. That's why we're here: to discover what families can do at home, in school, and beyond, using technology. Our events are a place where children, parents, teachers and beyond can come together to explore these possibilities—with an eye toward helping more children engage in today's world.
We'll cover what makes a great learning community, how to adapt to change, new ways of teaching your child and much more.
Join us at our Remote Learning Summit 2023 event and don't miss this once-in-a-lifetime opportunity to be part of your child's wonderful learning journey!
Please follow @remoteclass for more updates
Send us a message.
📧 jenni@remoteclassroom.com
📱 m.me://remoteclass