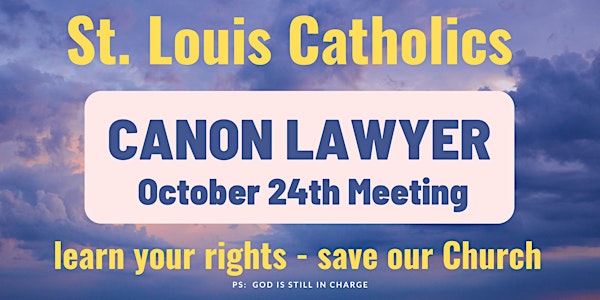 Learn the Canon Law implications of All Things New - Monday Evening Session
Join us for a meeting with a Canon Lawyer who will walk us through what our rights are according to Canon Law of the Catholic Church.
When and where
Location
Sheraton Westport Hotel St. Louis 191 West Port Plaza Drive St. Louis, MO 63146
About this event
St. Joseph Foundation has had success in gathering large groups of parishes and people together to unite and stop archdioceses from across the United States from closing parishes and making sweeping changes that will affect generations to come. The St. Joseph Foundation has a proven track record with more than 30 years of experience standing up for "David" against the "Goliath" known as the Archdiocesan leadership.
Why Should I Care? You should care because:
1) Your church may close. You may be funneled into a mega church. The new model church under "All Things New" is 2 to 2.5 times larger than most current parishes.
2) Your pastor may be forced to retire or lose his canonical rights to serve his flock in a meaningful way.
3) Your pastor may be reassigned to work that has nothing to do with any parish, such as campus ministry at a state university or sent out to be a Missionary priest, because of an "excess" number of priests after the "All Things New" changes.
4) Another church near you may close, and according to Pew Research, 20-50% of Catholics do not return to church once their church closes if it is handled well. If it is handled poorly, that percentage goes up! Souls are on the line.
5) The more churches that close, the less sacred space will be in the Archdiocese of St. Louis. Have you ever considered what our city will be like without Jesus in the many tabernacles?
6) There will be less priests, because most vocations are formed by children who know their priest. In a mega church, this will be harder to do because of the sheer number of sheep.