Learn the art of tea meditation for relaxed concentration with Hwangchil Premium Herbal Tea. Relax into the refreshing energy of Hwangchil.
About this event
Enjoy a Saturday afternoon learning the basics of tea meditation. We will be featuring premium herbal Hwangchil tea for your experience.
Some benefits of drinking Hwangchil Tea include:
• Boosts Brain Activity
• Liver Function Improvement
• Provide Focus and Balance to the Mind
• Antioxidant Effects
and many more!
Spots are limited, so call (973) 832-7020 to reserve your In-Studio tea meditation session.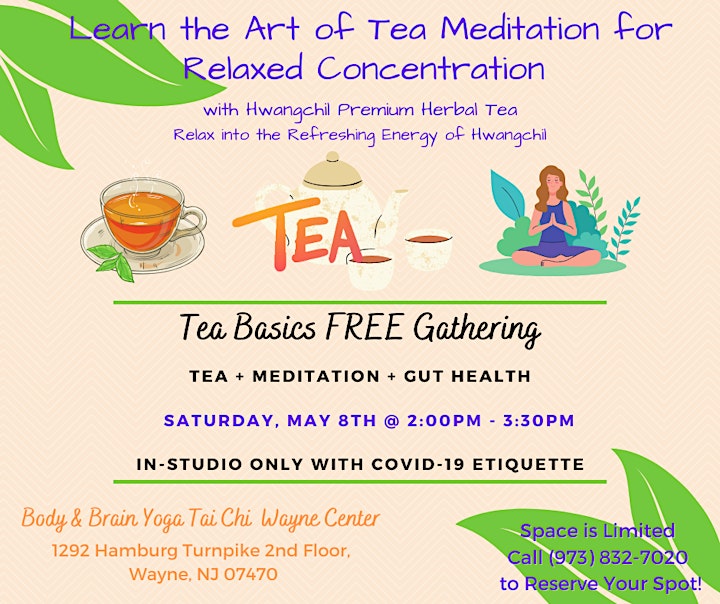 Organizer of Learn the Art of Tea Meditation - FREE Gathering
I am the owner and instructor of Wayne NJ, Body & Brain Yoga/ Tai Chi serving my local communities since 2014. I guide members with experienital learning on how they can create their own health, happiness and peace. I work individually and collectively sharing these methods and tools to awaken how your body and brain's natural healing system can be activated and maintained for longevity of health. This is a dream and passion I live to enhance for the creation of bright growing healing society. Where we live in harmony and balance with ourself, others and the earth.
By experiencing these ancient healing methods I cured my own disease (Graves) and my son's (Epilepsy) naturally in 2010. I truly believe we can create a healthier world if we choose it. It all starts with each one of us.
This is a FREE Open House Event and any donations are appreciated for our non-profit work with ibrea.org and earthcitizens.org.