Galentine's Date with Erica Worrall, Paper Flower Craft Master from @_littlepaperflowers_
About this event
We are now offering Workshop Recording for those who want to join yet unable to participate in the live Zoom.
Check ticket selection →
Little Flowers Everywhere
- Paper Craft Flower Virtual Workshop -
There's a reason flowers are the decoration of choice for most special occasions. They are colorful, welcoming, elegant, and can make almost every room feel special. Handmade paper flowers can create a delicate bouquet that makes a perfect personal gift or can be used as individual table centerpieces. Let's make these beautiful flowers to last forever by turning them into Paper Art.
2021 Line Up:
February 13- [Galentine's Edition] Love Language of Peonies
Red Peony- Love, passion, honor, and respect.
Pink Peony- Love at first sight and beauty of marriage.
White Peony- Shyness, regret, or apology.
Yellow Peony- New beginnings.
Purple Peony- Success and royalty
March 20- [Spring Equinox] Tulip
​What We Will Do:
This workshop will be taught through Zoom, you will learn step-by-step instructions and tips on how to make a paper peony flower with Erica Worral from Little Paper Flowers. You will learn the techniques of cutting, shaping, and configuring a paper flower to look realistic. Creating paper flowers starts with learning the anatomy of the real flower you are trying to replicate. Each petal is cut out of fine Italian crepe paper, shaped to resemble the petals of the original flower, and then adhered to a wrapped wire stem. By the end of the class, you will take away a beautifully sculpted flower that will last you years with good care.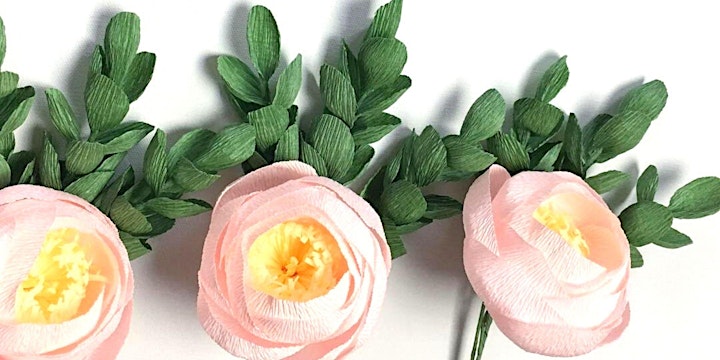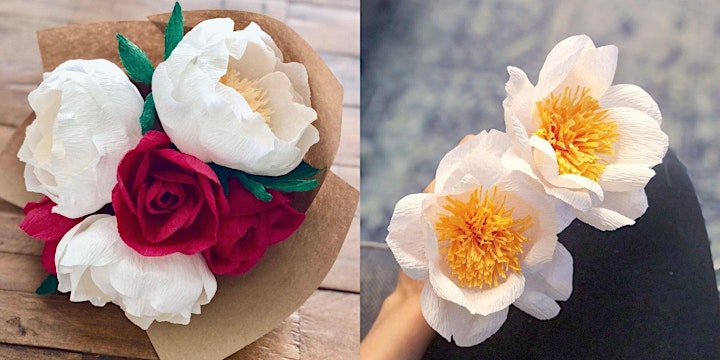 Need paper flower supplies?
Support our independent artists and our creative community! Purchase a ticket with a Light Pink Peony Paper Flower DIY Kit at Check Out!
We will ship you the kit with all the materials needed to participate (kit must be purchased at least 6 days before the workshop to allow time for shipping - shipping is currently unpredictable, so please order as soon as possible).
Supplies included in the kit: Crepe Paper, Hot Glue Sticks, Tacky Glue, Wire
Supplies NOT included in the kit: Hot Glue Gun (optional), Scissors
***You can use Tacky Glue instead of Hot Glue. If you want to use Hot Glue Sticks then you will need Hot Glue Gun which is not included in the kit.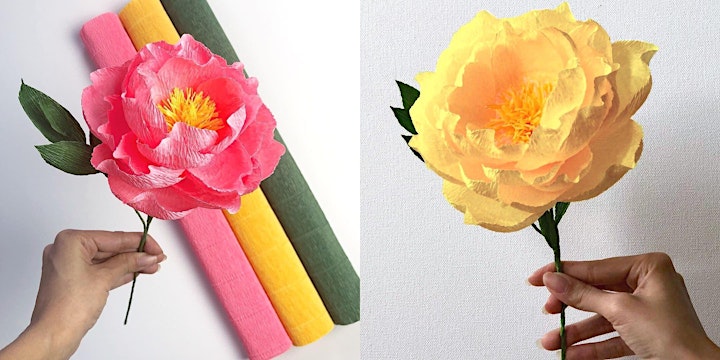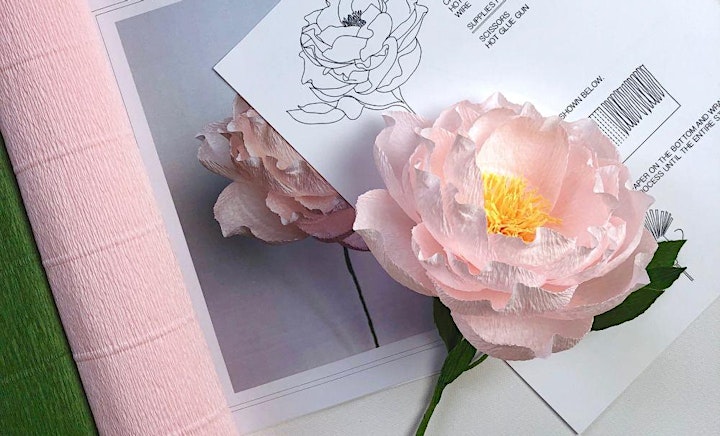 Already have the supplies or you want to choose your own color combination?
Here is what you will need:
Hot glue gun & glue stick
Or tacky glue
Blink Art Brand Crepe Paper $1.55/color — Buy at Blink Art →
Lia Griffith Crepe Paper $6.49/color — Buy at Blink Art →
Lia Griffith Crepe Paper Rose Kit $16.20 — Buy at Amazon →
Lia Griffith Crepe Paper Peony Kit $16.94 — Buy at Amazon →
10% of the proceeds will be donated to Safe Horizon
Largest victim services nonprofit organization in the United States, providing social services for victims of abuse.
About the artist:
Erica Worrall, the owner and visionary behind Little Paper Flowers based in West New York, New Jersey, but previously in Brooklyn New York! Little Paper Flowers is a shop that specializes in handmade paper flower arrangements and succulents where every flower is treated as a 3D piece of art. Each one starts as a roll of paper and transforms into a realistic single flower, bouquet, or anything in between that will last years to come.