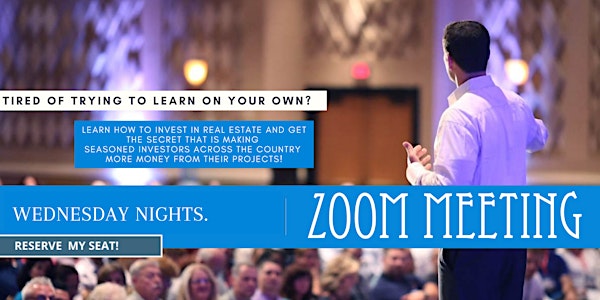 Multiple dates
Learn Multiple Strategies From Real Estate Investors - Live Webinar
Learn how to invest in real estate from vetted and successful investors. Make More From Each Deal.
By Northstar Investment Properties
Date and time
December 14, 2022 · 6pm - August 30 · 8:30pm PST
About this event
Attend this free information session to learn about the 90 courses and 38 industry expert instructors and what others are doing with this training and learn how you can plug in too.
With this training program, learn how to invest in real estate and get the secret that is making our investors across the country more money from their projects.
This incredible information is allowing people who want to generate extra cashflow and start investing in real estate, To launch into success even faster. It is also helping current investors to earn a lot more from each of their deals.
Who this is for:
Those who are DONE trying to figure it out alone,
Those who see value in investing in themselves,
Those who have ability to invest in themselves,
See value in buying quality training by professionals,
See value in coaching / mentoring,
See value in local and national community support,
If that doesn't describe you, then this is NOT for you. don't bother continuing with this event.
If you ARE looking to learn about a training program and potentially buy it, if you like what you see, then continue.
Register here:
Investing in real estate does not have to be complicated. With the correct knowledge, system, tools and support you can save yourself time and money and accelerate your success as a Real Estate Investor. Learn how you can plug into the same training program we use.
REGISTER TODAY Click the link above if you want to learn the simple and fast way to take your income to the next level with real estate investing.
What is the meeting about?
It is designed to give you a full overview of a training program... the "meat and potatoes" so to speak. I recommend having a pen and paper handy as you will probably have some questions. You will also be given some websites to review to help you do your due diligence and make an informed decision. At that point, if you have any remaining questions, we will be able to get those answered for you.
A program focused on 3 areas: Business, Finances, investing in real estate that, *when applied, allows you to start experiencing more life, more fun, being part of a winning team, spending more time with family, using a system of learning that fits your schedule, rewards your efforts with recognition from your peers, and ultimately provides financial security so you can take back control of your finances and your time.
There are 6 Program options you can purchase:
Ala-carte - $1,250 *12 month access to a course
Option 1 - $2,497 *Lifetime access, free updates, free classes as they're added
Option 2 - $3,747 *Lifetime access, free updates, free classes as they're added
Option 3 - $7,497 *12 month access to 2 advanced courses
Option 4 - $22,497 *Lifetime access, free updates, free classes as they're added
Option 5 - $24,994 *Lifetime access, free updates, free classes as they're added
Option 6 - $28,741 *Lifetime access, free updates, free classes as they're added
There is a guaranteed funding option and pay in full discounts for those who are serious.
There is a LOT more value involved in what is offered. For those who are serious about learning what is offered at each option, then attend the meeting and make an informed decision that this is a good fit for you and how to move forward.
We look forward to seeing you.
PS - If you re not serious, and won't attend, let alone answer emails, or calls, then don't waste our time.