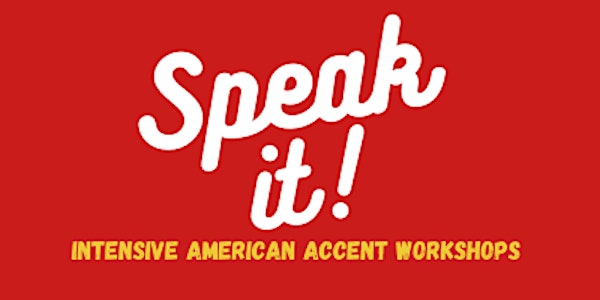 Learn how to speak with an American Accent - An Intensive Accent workshop
A four hour intensive workshop, to feel understood, heard and confident the next time you speak!
About this event
Just like learning a new language, you can learn how to speak with an American Accent too.
Are you an English non speaker who wants to improve your accent and pronunciation to open more opportunities for you while working with Americans?
The problem is while learning English no one taught us how speak with an accent ; leaving you speak English with a different pronunciation and accent.
We have designed this workshop, to teach you the correct way to pronounce the vowel sounds and giving you materials you can practice on your own leading you speaking English with an American Accent fluently.
Join this workshop today, to start to feel confident, heard the next time you speak!
Don't let the wrong way to pronounces words be in your way to speak with an English with an American Accent!
Breakdown of the workshop
Section 1- Vocal warm ups
Warm up of your vocal muscles such as your tongue, voice, lip, tongue. We use these vocal muscles daily to speak unknowingly. Performing vocal warmups will allow you develop a new placement of your vocal muscles, helping you speak with an American accent.
Section 2 - Introduction to vowels present in American English
Learn the proper pronunciation the vowel sounds present in the American English such as the Front vowels, Back vowels, Diphthongs. These vowels sounds are the ABCs of the American Accent
Section 3 - Correct pronunciation of consonants
Learning how to pronounce each consonants properly via tongue twisters exercises and various words
Section 4 - Practice makes perfect!
This workshop you will get to practice a lot of words, phrases and sentences with an American Accent. This will allow to improve your pronunciation of each words when you speak
Section 5 - Intonation rules
Learn which phrases and words you emphasize / stress while speaking, making you sound fluent the next time you speak.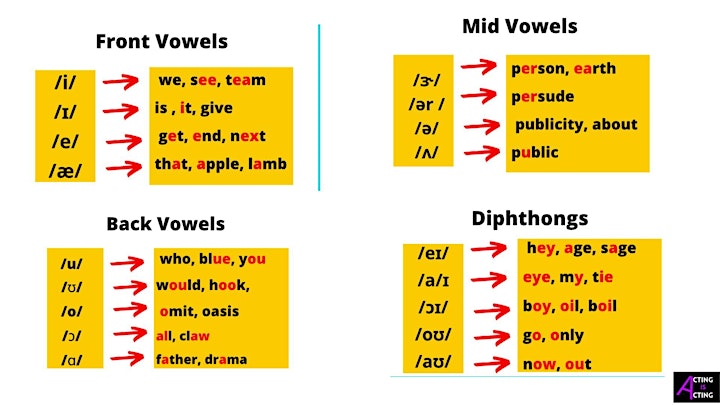 Testimonial
"Lovena's deep understanding of the american accent and what you need to do to get there is really insightful. Her 4 hour workshop comes packed with so much content which she easily explains to you and lets you know right away, where and how to start working on it. With the attached file you also have a lot to continue and practice long after her course is over."-
Florian Raphael
About the Coach
Lovena Kureemun is a trained Method Actress from The Lee Strasberg Theatre and Film Institute .Lovena Kureemun is also the author of the book Acting is Acting- Your Step by Step Acting Guidebook. Lovena is an acting coach, helping actors across world to learn acting techniques .
Bonus takeaways from the workshop
A pdf copy of the whole material covered in the 4 hour workshop which includes all the vowel consonants and words to practice on your own after the workshop.
FREQUENTLY ASKED QUESTIONS
How long is the workshop?
This is a 4 hour long intensive workshop
How many participants allowed per workshop?
Only 5 participants allowed
What is the age limit to join the workshop?
This workshop is for anyone who is16 +
Do I need experience prior to joining?
No prior experience needed. All levels of attendees are welcome.
Can l book with a friend ?
YES if you booking with a friend you get discounted price of only $99 instead of $114 for two people.
Will l get a certificate at the end of the workshop?
This workshop is only for informational and educational purposes. No certificate is issued by Lovena kureemun.
Cancellation and refund policies
You will be refunded within 2 weeks if you cancel 7 days prior to that workshop date. All refunds will be made via PayPal and will be communicated via Emails.
Testimonial
"I had a lovely time at our workshop and it helped me gain another perspective and approach to this accent. Since English is not my first language, you made me feel comfortable and welcomed." -
Lamia
Join us now, and impress your friends, colleagues the next time you speak with your fluent American Accent