Learn How to Renovate Vintage Small Houses for Love, Living-In or for Profit.

Saturday, June 9, 2012 from 9:00 AM to 5:00 PM (CDT)
Event Details
TINY TEXAS HOUSES and PURE SALVAGE LIVING Present a Full Day Small House Renovation Seminar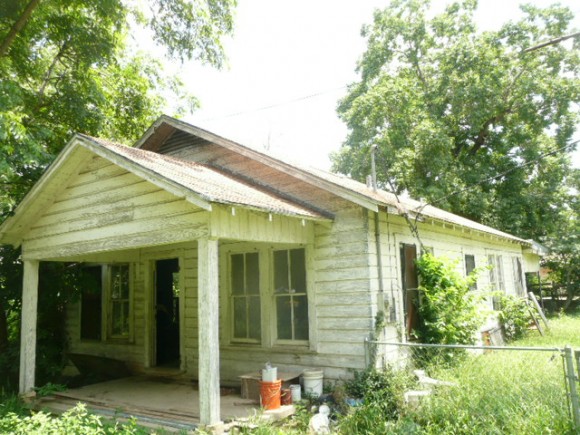 Vintage 1920s Kit Cottage awaiting our Renovation Course!
DATE:  Saturday, June 9th
TIME:  9AM to 5PM ; boxed lunch, beverages and snacks included
LOCATION:
Pure Salvage Living Retreat Center
609 East Wallace Street, Gonzales, Texas 78629
GOOGLE MAP & DIRECTIONS: http://g.co/maps/sw93y
TUITION:  $175 per person;  Earlybird price only $99. Early bird price expires May 31, 2012.

SKILL LEVEL: Beginner to Advanced; no construction skills required
AGES:  Adults 18 and over only.


We reserve the right to cancel the course and refund your money if not enough students sign up.   You may cancel with a full refund up to 7 days prior to event; after that there are no refunds.
ABOUT THE COURSE
If building your own small house from scratch isn't for you, renovating a classic vintage pre-WWII small cottage or kit home may be!
Learn from a professional builder with 30 years experience in construction and renovation in the Old House field. We will cover exactly how to correctly renovate classic small American "Kit Houses" and cottage houses, for maximum liveability, sustainablity, and without destroying the character and the soul of the house. Brad Kittel of Tiny Texas Houses has successfully bought, fixed up, rented out, and owned more than three dozen of the classic cottages he will be lecturing about.
This is NOT a get-rich-quick course about flipping homes for profit by doing junky cheap renovations. (In future seminar courses we will cover locating properties for resale, property financing or maximizing profits via resale marketing flip strategies for the responsible old house renovator.)
This is about actually restoring a rundown, classic vintage small cottage to become a beautiful, liveable home again. Whether you want to renovate a classic cottage to live in for yourself, or for a loved one, or to resell to another who would appreciate its craftsmanship and put a reasonable profit in your pocket – this seminar is for you.
About the Renovation Cottage
We have one of the classic styles of Sears Kit Home cottages on our property in Gonzales which also includes our Pure Salvage Retreat 1905 Victorian house. Both these classic vintage homes will be used for overnight guests in our PSL retreat once their renovations are completed.
Photographs of the cottage house show its current, as found condition, when we purchased it. This makes it the perfect candidate for us to teach you all the steps in her correct renovation.
WHAT YOU WILL LEARN
Focusing on the actual example cottage, this seminar will cover creating its renovation plan, the strategy that determines the priorities of work to be done and why and some examples of work currently being done on the cottage.
The seminar will be loaded with professional tips, such as what to expect when you uncover the bathroom floor or work on areas that have taken in water or what to do with walls, floors, doors and windows that have suffered from years of neglect.
Your Instructor, Brad Kittel, has done on dozens of houses of this style, and he will show you how to turn what looks like a teardown into a treasure that could either house you, your friends or family members, or make you money on resale. Although this particular cottage is in far too good a condition to be destroyed, we will also discuss how to know when houses of this vintage are too far gone to save and are better demolished for salvage and those saved materials then used to build your own Tiny Texas House.
In order to assess and make the big decision to buy, or how far to go with the fix up, this class is essential in planning your budget, sequence of events, and realistically estimating the cost of the total rehab project. We will discuss how to know if the finished product is worth the expenditures it will take to make it original, or what to do if to you want to just do a cosmetic make over and pass some of the problems on to someone else.
No question will go unanswered as nearly every situation you can get into with renovating old and vintage houses has been experienced by Mr. Kittel in the dozens of houses that he rehabbed in Austin and Gonzales, Texas since 1980. Hopefully this information will save you many hours of grief, days of time in backtracking projects, thousands of dollars in wrong expenditures, and thousands saved by not getting taken advantage of by unscrupulous contactors who often get involved in such remodels.
OUTLINE OF TOPICS:
This one day course will touch on many of the following common problems and repair aspects of vintage cottage renovation:
FOUNDATION AND SYSTEMS
Foundations and Foundation Repair Work
House Levelling
Electrical Systems
Plumbing, Septic and Sewer Systems
Heating and Air Conditioning (HVAC)
Fireplaces and WoodStoves
EXTERIOR
Siding
Trim
Insulation – Walls, Floor, Attic
Roofing
Gutters, Eaves, Downspouts, Flashing, Etc.
Doors & Windows
Shutters – get it right!
Storm and Screen Doors and Windows; Shutters
Exterior Skirting
Porches, Patios and Decks
INTERIOR
Walls – interior materials, removing and replacing
Floors – Refinishing vs. replacing; wood, tile and linoleum
Ceilings
Interior Doors
Trim – baseboards, crown mouldings, chair rails, window trims, etc.
Period Built-Ins
Fireplace Mantels and built-in shelving
Windows – repairing usage
Room Additions and Porch Remuddles – save or remove?
Restoring stairways, pantries, closets, rooms, hallways to original layouts
BATHROOMS
Fixtures – vintage or new?
Tilework – walls
Windows
Flooring
Special considerations for wood floors and moisture
Fitting modern conveniences into old small home spaces
KITCHEN
Layouts
Cabinetry
Flooring
Appliances
Countertops
Window placement
Period window treatments/built in shelving
Sink/Faucet
Period Fridges, Stoves & woodstoves
Other kitchen considerations due to old house's smaller layouts, etc.
MISCELLANEOUS ITEMS
Yards and Landscaping
Paths and Walkways
Garages and House to Garage Overhangs/Porticos
OVERALL HELPFUL RENOVATION TIPS
Items you should always demo/remove from your old house
Renovations you should NEVER do
Permits and Inspections
Working with Contractors
and more..!
ABOUT YOUR INSTRUCTOR
Brad Kittel, the Founder and Owner of Tiny Texas Houses, www.tinytexashouses.com, a custom home builder and artist who builds and works exclusively with vintage, salvaged architectural materials, has been building and renovating vintage homes since the early 1980s.
During his dozen years as a real estate broker he sold 60% of the real estate in the Austin, Texas 78722 zip code (MLK to the Airport, along Airport Blvd, accross to IH-35), and rehabbed over 50 houses in the immediate area.
The area of East Austin that became known as "the French Place" neighborhood was due to his marketing and extensive redevelopment work in that area long before it became gentrified. At one time Mr. Kittel was the 2nd biggest landowner behind UT in the "French Place" neighborhood.
Mr. Kittel won numerous awards for work in rehabbing old houses and old neighborhoods including their highest honor, the Building Block Award twice. He also won the Entrepreneur of the Year Award for his socially responsible work in fixing up old houses and neighborhoods in East Austin during the late 1980′s and early 1990′s.
Currently, he is crafting custom commissioned small houses completely from vintage architectural salvage at his company, Tiny Texas Houses, based in Luling and Gonzales, Texas. He has founded the Pure Salvage Living movement to educate and empower others in sustainable living through salvage mining, salvage building and renovation of America's existing vintage homes.  More information can be found at www.puresalvageliving.com.
Attendee List
Sort by:

Date

|

First Name
When & Where

Pure Salvage Living Retreat Center
609 East Wallace Street
Gonzales, TX 78629


Saturday, June 9, 2012 from 9:00 AM to 5:00 PM (CDT)
Add to my calendar
Organizer
Tiny Texas Houses and Pure Salvage Living
Learn How to Renovate Vintage Small Houses for Love, Living-In or for Profit.