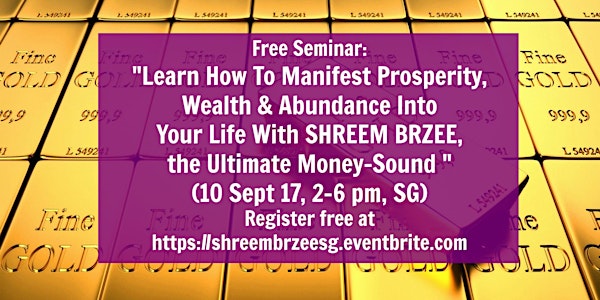 Learn How To Manifest Prosperity, Wealth & Abundance With SHREEM BRZEE
Event Information
Location
RELC
30 Orange Grove Road
Singapore, 258352
Singapore
Description
This Free introductory seminar will introduce you to enlightened master Dr Pillai's teachings to attract wealth, prosperity & abundance into your life including secrets of SHREEM BRZEE, the ultimate money powersound.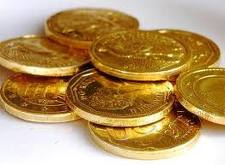 WHAT WILL YOU LEARN & EXPERIENCE DURING THIS SEMINAR
(1) Learn how to harness the power of SHREEM BRZEE, the ultimate wealth sound to attract wealth and abundance in your life.
(2) Learn the technique to harness your own laser-focus to energise and accelerate your practice of SHREEM BRZEE in your own life (See below for more information)
(3) Learn how to access Kubera's (Banker of Heaven) Wealth Accumulation Energies
(4) Experience of power of chanting SHREEM BRZEE in a group. We will have a 1-hour Mini SHREEM BRZEE Group Wealth Chanting Session during this introductory seminar. To learn more about our SHREEM BRZEE Group Wealth Chanting Sessions in Singapore, CLICK HERE
WHAT IS SHREEM BRZEE?
Enlightened Siddha Master Dr Pillai (Babaji) teaches that SHREEM BRZEE is the ultimate and most powerful quantum sound to attract money, wealth, prosperity, abundance, joy and material happiness to you.
Just like how an oak seed has the potential to grow into a large oak tree, and thereafter multiply into a forest of oak trees, the sound SHREEM BRZEE once implanted into your consciousness and your very soul, will turn you into a pure money magnet that attracts wealth and prosperity to yourself.
SHREEM is the seed sound for Lakshmi, the archetype who gives money and prosperity.
BRZEE is a sound that was revealed to Dr Pillai by an ascended master known as Visvamitra who meditated on this sound on a different plane for 1500 years.
BRZEE is an ultimate sound which can attract untold wealth and riches to you.

Goddess Lakshmi is the aspect of the Divine that gives you money blessings and material miracles.
DR PILLAI INTRODUCES YOU TO THE POWER OF SHREEM BRZEE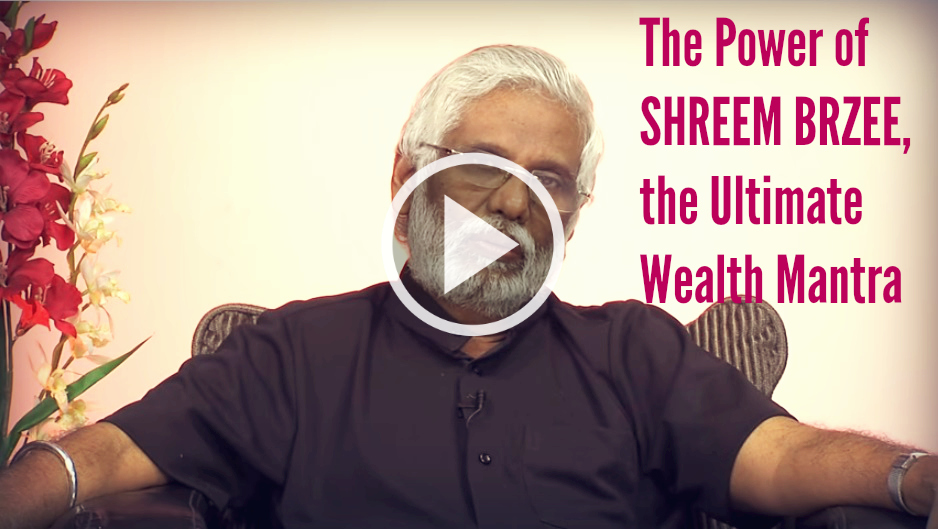 HOW TO FURTHER ATTRACT WEALTH WITH THE POWER OF KUBERA, THE BANKER OF HEAVEN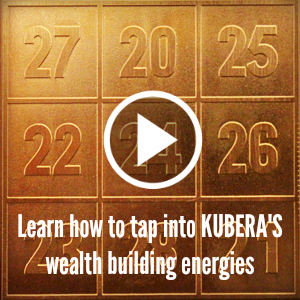 Kubera is the archetype known as the Banker of Heaven. His wealth energies will energise you to be able to attract and build wealth. During this introductory seminar, we will learn how to work with Kubera's prosperity numbers to empower your consciousness with wealth attracting energies.
Click on the picture above to learn how to harness Kubera's wealth energies.
LEARN THE TECHNIQUE TO HARNESS YOUR OWN LASER-LIKE FOCUS TO FURTHER ENERGISE & ACCELERATE THE PRACTICE OF SHREEM BRZEE
The key to manifestation is to be able to focus your thought-energy on your manifestation with laser-like focus in order for it to manifest in 3-dimensional reality.
Most of us do not manifest because our wandering monkey mind cannot focus on one thought i.e. our personal manifestation, with a sustained and powerful intensity in order for our thoughts to manifest into 3-dimensional reality.
During this introductory seminar, you will learn the potent technique to still your monkey-mind in order to ENHANCE your practice of SHREEM BRZEE.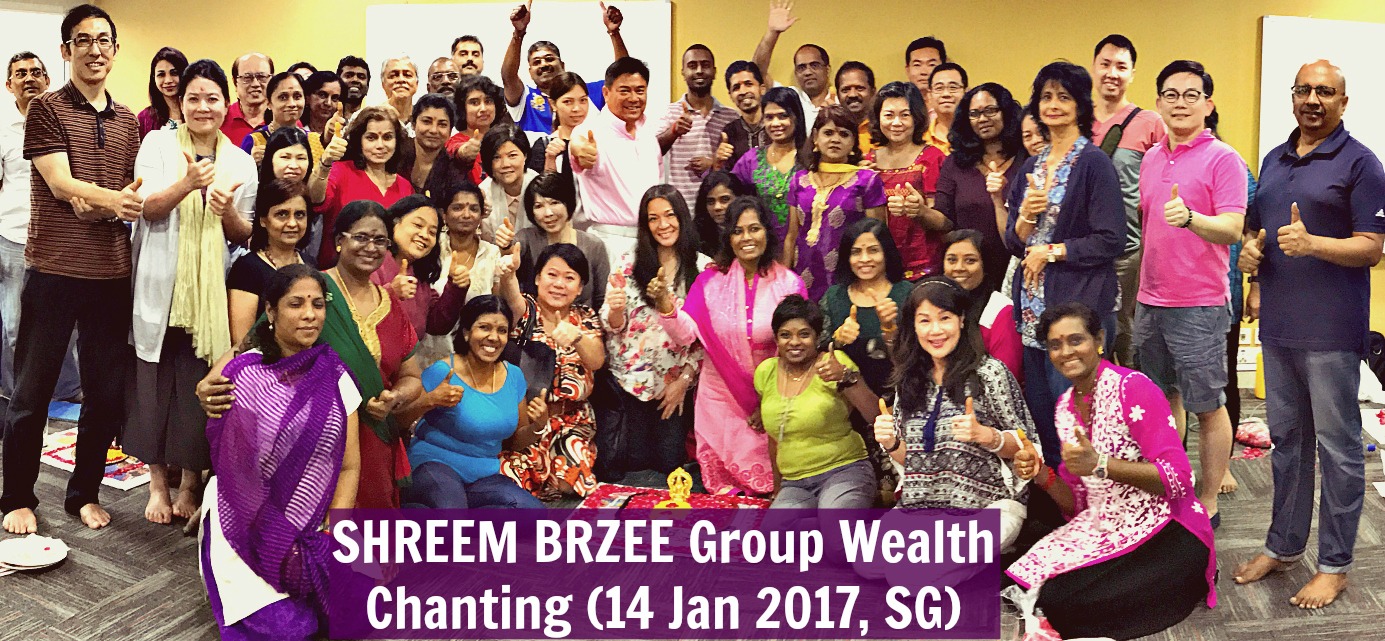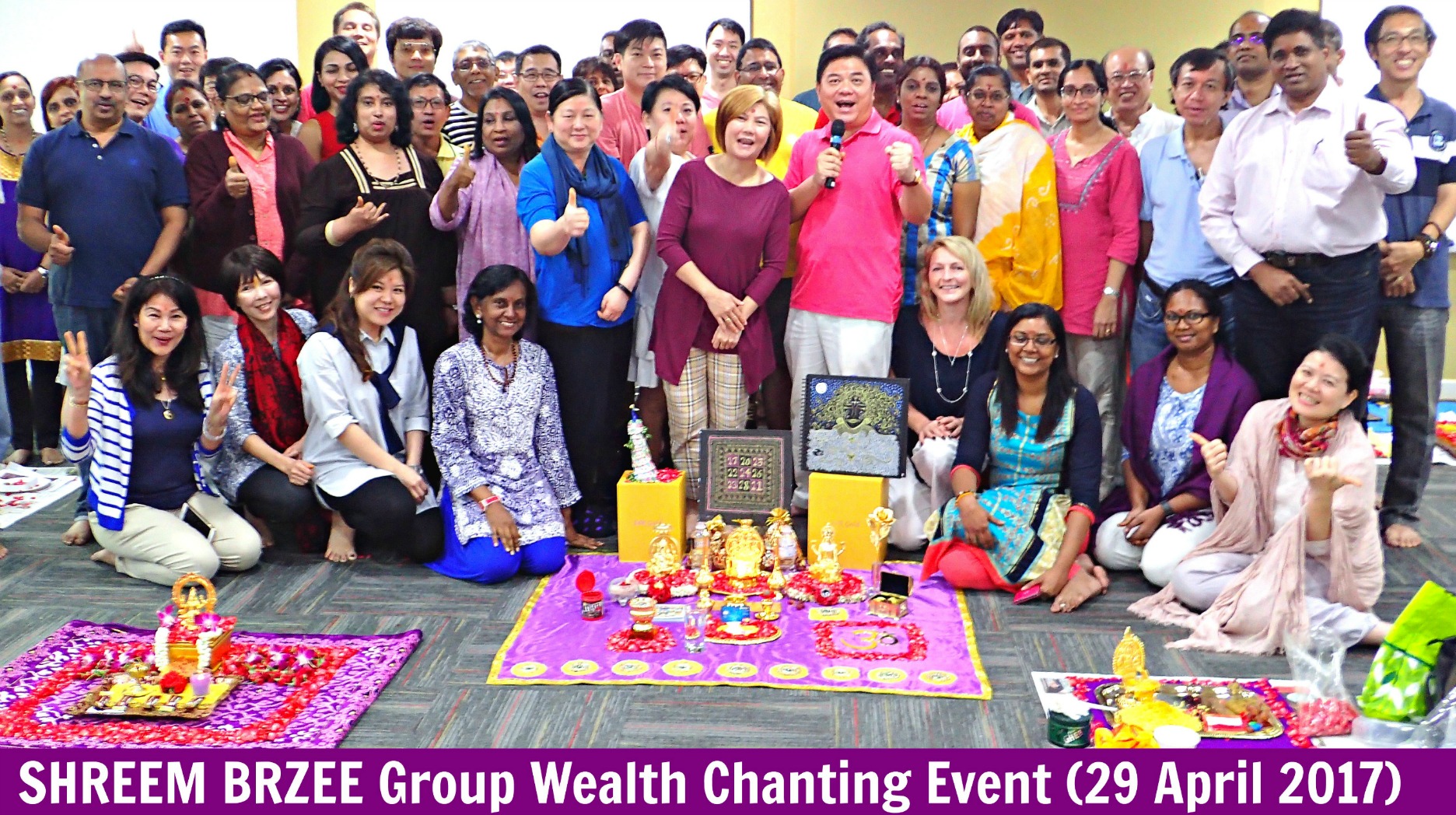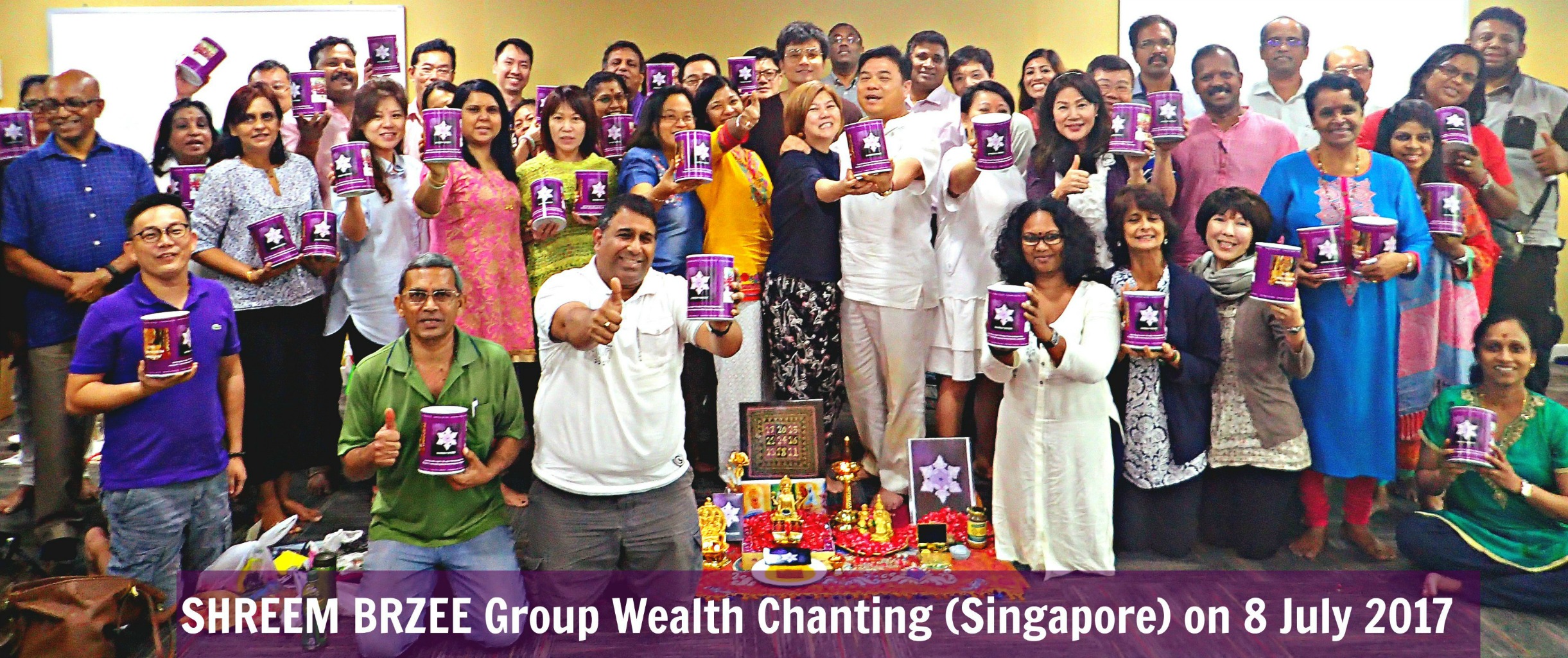 HOW TO TAKE YOUR PRACTICE OF SHREEM BRZEE TO THE NEXT LEVEL
(1) Watch people describe the financial and money miracles they experienced with the power of SHREEM BRZEE
(2) Learn about our one-of-a-kind SHREEM BRZEE Group Wealth Chanting Sessions in Singapore by CLICKING HERE. Learn more about our upcoming 16 September 2017 SHREEM BRZEE Group Wealth Chanting Sessions in Singapore HERE

(3) Totally transform your financial and material destiny for 2017 when you join our SHREEM BRZEE Abundance Chanting Powerspots Trip To India in November & December 2017. NOTE: The e-brochures for the SHREEM BRZEE Powrspot trips are currently being prepared. You can download the free trip e-brochure for the SHREEM BRZEE powerspots trips conducted in June 2017. Learn more by clicking HERE
(4) If you would like to join our upcoming FREE online SHREEM BRZEE Group Wealth Chanting Events, you can drop me an email at sivababa108@gmail.com
10 SEPTEMBER 2017 SHREEM BRZEE SEMINAR DETAILS::
Date: 10 Setptember 2017, 2-6 pm
Venue: RELC Hotel, 30 Orange Grove Road. Singapore
IMPORTANT NOTE:
(1) Dr Pillai will not be teaching this seminar. This seminar will be facilitated by Vijay, one of the volunteers for Dr Pillai's Asia Community in Singapore.
(2) Due to the advanced nature of the teachings presented, this seminar is only open to those 18 years of age and above. Terms and conditions apply. Right of admission reserved.
Date and time
Location
RELC
30 Orange Grove Road
Singapore, 258352
Singapore