Description
Have you always wanted to grow your own pot plants but don't know where to start? Or you think you have a brown thumb and can't grow anything? This class is for YOU!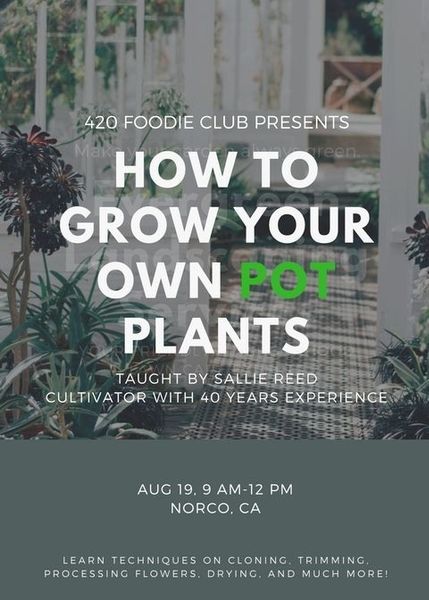 DESCRIPTION
This class, conducted by Sallie Reed, an artisan cultivator with 40 years of growing experience, will give you a hands-on approach to growing. She covers different subjects depending on her class and previous sessions have included the following topics. She is open to other growing topics, so bring your questions!
• Different stages of growing
• Nutrient and light needs at each stage

• Different cannabis strains and requirements for each stage

• Growing mediums, container types, nutrient brands, pest control

• Processing flowers

• Drying times

• Trimming styles

• Cloning techniques

• And more!
In addition, each student gets some seeds to plant and grow at home!
Location: Norco, CA (Exact address will be given out upon registration)
Food: We will serve light snacks. You can also bring an appetizer or snacks for a potluck and share with the class. It will be hot so bring plenty of water.
Special equipment is not required, but dress for comfort as there will be some walking. There are animals on the property, so please be aware of that if you have any allergies.
ABOUT SALLIE
Sallie is truly an artisan cultivator who has been growing and enjoying the plant for 40 years on and off. She had a large outdoor grow in the high desert back in the 1980's and continued to grow when she came to Norco, where she currently resides. When she moved to Norco, she began to experiment with growing different strains outside in a natural way using live soils and different kinds of manure to enhance growth.
As her friends got older and began to have some health issues, she changed her strains to include many that are high in CBD. She had spoken on panels with the topic of growing, and had so much interest that she started these grow classes.
Date and Time
Location
Refund Policy