Learn How To Dominate The Web without Permission w/ Alexis Ohanian

Thursday, October 3, 2013 from 6:00 PM to 9:00 PM (EDT)
Event Details
All early bird tickets are sold out! 
First 25 people get a copy of Alexis' new book " Without Their Permission"  
When starting out on the entrepreneurial journey, we tend to ask many questions or do a massive amount of research. Sometimes we prepare forever and it feels like we are asking permission to go out there and change the world. 
October 3rd we sit down with Alexis Ohanian who is the co-founder of one of the most popular pages on the net; reddit.com
Alexis didn't wait for permission to build something that people actually loved and during this conversation he will teach us how we can do the same. 
Alexis personifies the entrepreneur we all want or strive to be. He built a popular site that he was later able to sell for millions of dollars while being a college student. He did this with very little technical skills or business skills. All he did was give himself the permission to change the game.
He has gone on to start other game changing startups like hipmunk and breadpig, while also doing his part to fight for internet users' rights while investing and advising startups. Alexis also represents the Y Combinator family so he brings lessons and skills from some of the most successful entrepreneurs out there.
Bosses don't wait for permission to create; they create and deal with the outcomes later. Will you create or wait for the green light?
Don't miss your chance to #bossUP with one of the best and get answers to real questions.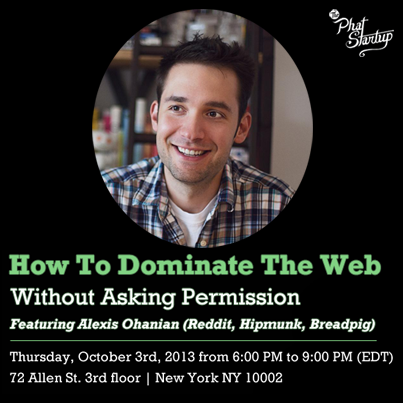 Besides walking us through his philisophies for building on the web,
Alexis will also teach us:
- How to harness the power of the web to build game changing businesses
- How to get your mind right to create change
- How to give yourself permission to change the game
Media Sponsor


About The Phat Startup 
Join us to discuss Technology Entrepreneurship and how Hip Hop has inspired founders to start businesses. We bring together thought leaders from various industries so you can learn what it takes to be successful in business. By sharing the knowledge we have all obtained, we can create an ecosystem that could provide value for everyone. We do so via The Phat Startup website.
At these meetups you will be able to learn from successful entrepreneurs, network with fellow Hip Hop enthusiast, and discuss strategies that can assist others while buildingtheir businesses.
Agenda:
6:00 - 7:00 PM Light refreshments, Pizza brought to you by Herman Yiu CPA
7:00 - 8:00 PM 40 Minute interactive conversation followed by a 20 minute Q&A
8:00 - 8:30 PM Networking and connection building
Organizer
The Phat Startup
The Phat Startup is a media company that provides premium educational content to aspiring entrepreneurs. We provide workshops, online education and live events inspired by Hip Hop.
Learn How To Dominate The Web without Permission w/ Alexis Ohanian