Learn How to Create an Innovation Clinic

Friday, June 1, 2012 from 11:00 AM to 1:00 PM (EDT)
Event Details
Join us on our Google+ Hangout!
(don't have Google+? Watch our livestream on YouTube)
Learn How to Create an Innovation Clinic
A Virtual Roundtable with Gaurav Bhalla & The Oslo University Hospital Clinic of Innovation
Learn how an innovation clinic will...
Turbocharge the creative power of your customer community
Focus innovation on what drives customer demand 
Adapt the best practices of nonprofit community building into the innovation process
The first-of-its-kind Clinic of Innovation at Oslo University Hospital works a lot like an outpatient health clinic, but treats ideas rather than patients. Ideas walk in, are diagnosed, and are treated or referred; some are sent home with a prescription for further development, and an appointment for a follow-up visit. In addition to providing technical support, the clinic helps with business model development and commercialization. The brainchild of Drs. Andreas Moan and Kari Kværner, it was launched in 2007 to foster innovation by soliciting ideas from health care professionals, research companies, and others outside of the health care industry.
Join the CoCreation Forum as Gaurav Bhalla, CEO of Knowledge Kinetics shows how the Clinic of Innovation uses co-creation to solve problems in the world of healthcare, and how your organization can benefit from its own "innovation clinic."
About Gaurav Bhalla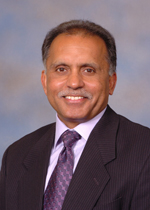 Gaurav Bhalla is a strategy, innovation, and marketing professional with global experience, having worked on three continents and with companies in over 20 countries. Since the mid-70's, he has been associated with the business world as a consultant, executive, entrepreneur, and academic/executive educator.
He is the CEO and founder of Knowledge Kinetics, an organization that specializes in co-creation and customer value innovation. They help provoke deeper thinking and more rigorous execution of initiatives related to innovation and business growth, through a mix of consulting, executive education, and research/analysis. He also currently serves as the Chief Innovation officer at Passenger.

Have a question about co-creation and innovation you want answered? Is there a topic you'd like them to cover?
Join our discussion on LinkedIn.
Brought to you with the generous support of:

Organizer
CoCreation Forum

The CoCreation Forum is a community and advocacy group dedicated to enabling and educating on the topic of Co-Creation by growing awareness in the U.S. through events, newsletters, and more.
We are a network that involves all parts of the community: companies, consultancies, end-users, analysts, pundits, and researchers.
Visit us at cocreationforum.com