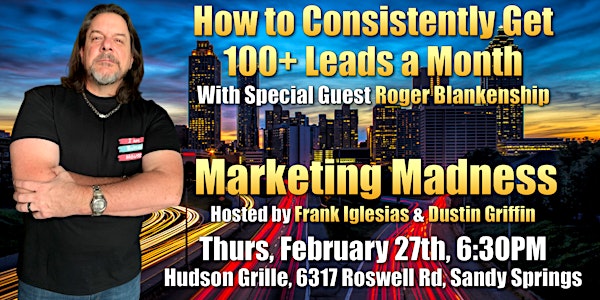 Learn How To Consistently Get 100+ Seller Leads Every Month!
When and where
Location
Hudson Grille 6317 Roswell Rd Sandy Springs, GA 30328
Description
MARKETING MADNESS
How To Consistently Get 100+ Leads Every Month!
with Roger Blankenship
Atlanta REIA Members Can Currently Attend at No Charge.
Guests Pay $15 Online or $20 at the Door. RSVP Now!
Join us at the BRAND NEW Atlanta REIA Marketing Madness Meeting on Thursday, February 27th at 6:30PM at the Hudson Grille in Sandy Springs located at 6317 Roswell Rd in Sandy Springs with Special Guest, Roger Blankenship, who will teach you "How To Get 100 or More Leads a Month!"

"Hi, my name is Roger Blankenship and I get more than 10,000 leads to review every month. I've been at it awhile and I have a couple of methods that have taken years to develop but I also have a proven system that will also work for you - if you're willing to work the system. In just a few months you could have 100 or more leads in your inbox every month."

If you want MORE LEAD FLOW through your pipeline, you don't want to miss Roger's special presentation at Marketing Madness on Thursday, February 27th at 6:30PM at the Hudson Grille in Sandy Springs located at 6317 Roswell Rd in Sandy Springs

At the event, Roger will show you:

- At least three of Roger's top nine sources for lead flow
- How to involve your neighbors, friends, your kids (if you want to) or even enlist total strangers to help you
- How to build a network of wholesalers that will send you 20 potential deals a day
- Roger's secrets for tapping into the deals on the MLS
- How to build a strong and productive relationship with a Realtor without wasting their time or yours
- What websites to review
- Which lead automations to buy
- Answers to your questions and so much more...

In addition, you'll hear how to:

- Get the leads coming to you
- Sit at your computer and make offers
- Estimate your rehab budget without leaving your office
- Move faster than the competition
- Make money in other cities

Roger says, "I'm not saying you can sit back and easy money is going to pour in. You're going to have to lay the groundwork, develop your skills, and work the system. But if you do, it won't be long before you have more leads coming than you have time to consider."

Everyone in attendance will have the opportunity to download Roger's new eBook: "Fantastic Deals and Where to Find Them." It's on Amazon in the Kindle Store, but it's yours at no charge just for showing up!

RSVP NOW & DON'T MISS THIS EVENT!
Marketing Madness is hosted by Dustin Griffin & Frank Iglesias who will be bringing in local and national real estate experts and marketers each month to teach investors how to consistently market for deals in order to survive and thrive in our ever changing economy and real estate market. The entire purpose of the group is to teach investors how to be Marketers aka "Lead Generating Machines" so they can have an unlimited source of leads and potential income.

Atlanta REIA Member can currently attend the meeting at no charge and not-yet-members can RSVP Online for $15 or pay $20 at the door.