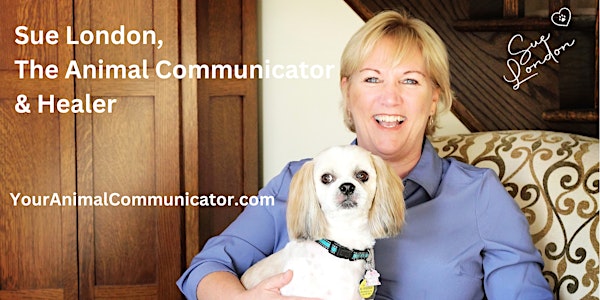 Learn How To Connect With Your Pets On The Other Side
Some attendees will receive pet messages from Sue London. Discover signs how your pets are communicating with you and so much more.
By Sue London, The Animal Communicator & Healer
Date and time
Tue, Apr 18, 2023 4:00 PM - 5:00 PM PDT
About this event
Do you wish you could receive a message from your pet who is on the other side? Do you wish you could know if he / she is okay? Do you ever wonder if they are with you?
During this informative and heart healing talk, you will discover the signs that your pet(s) are using to connect with you. You will learn tips to use how you can tap into them.
Each attendee on the live call and listening to the replays will receive an Energy Healing.
SOME OF YOU WILL BE CHOSEN TO RECEIVE A MESSAGE FROM YOUR PET
Would you like to receive a message from your pet? Email Sue a clear frontal view photo of your deceased pet and their name to sue@asksuelondon.ca. In the subject line please state: For April 18th talk
At the end of the talk Sue will choose a few people to receive their pets message.
Learn more or to schedule a service with Sue London, The Animal Communicator please visit https://asksuelondon.ca/services/
WHAT OTHERS SAY ABOUT SUE LONDON, THE ANIMAL COMMUNICATOR
"I've had two previous sessions with "animal communicators" that were zero on a 10-point scale and was very disappointed. Recently, I was talking with a friend in Arizona who told me about Sue and how pleased she was with her session. Excited, I was on the computer that night and scheduled a reading with Sue – surprisingly, for the next day. I only booked a half hour, though, because I was still a little skeptical. Well, thank goodness she had the time as we were able to go much longer – booking another half-hour. She was on a roll; I didn't want to stop! I couldn't have anticipated how much I learned – not only about Nikki, my parrot, but myself, as well – both individually and as a team, together. I thought it was just going to be a phone session but, fortunately it was over Zoom – so I was able to easily record the session with a little digital recorder. That was fortunate because there was just so much information and am anxious to listen to it again. A few days before, I had cancelled a session I had made with a psychic reader. I knew "why" after the session with Sue – she gave me exactly what I needed. She's a remarkable lady! I'm sure you'll get what you need to hear. On a 10-point scale, she's an eleven!" – Andrew Rogers
"Sue came to us through a wonderful friend who gifted us the gift of healing. We recently lost our almost 13-year-old dog Kayli and we were grieving her leaving. We were blurred by the pain and looking for closure. Sue not only connected with Kayli but connected with us through memories, traits and messages. Not only are we at ease and ready to heal but we were given homework in our pups confident and bossy manner. Thank you will never express our gratitude. " Chat again soon, Lisa and Shawn
"The messages Sue had for me from Luna and Sterling were heartwarming and healing. The messages she had for me were on point and filled with truth. The time I spent in her company had deeper healing than a therapy session. I got off the call much lighter than before and with a new perspective and approach in my daily habits and better communication with my beloved fur-babies. This is certainly only my first appointment with Sue, through our connection, I know it is not our last! Thank you so much for this magical and meaningful gift Sue! Your intuition can heal any pet owners looking for comfort, healing, peace or relief! Thank you, Thank you, Thank you! I can't recommend her enough!" - Maya
"Sue was able to bring me the joy of my pets once more, as their bold personalities were channeled through her. I was reminded of how funny they were and that I was indeed loved by them. As well as that they are not angry with me and simply passed when their purpose was complete. Sue was more than generous in this call offering tools, knowledge, and affirmation. She assured me that the party was just getting started and that no matter what my pals are only an intention away. If you are struggling with a pet crossing over I highly recommend Sue to help you in reaching peace and clarity." - Tanya
"Hi Sue I just have to thank you again I really feel so much better about Keiko and just knowing my pain and sadness affected her so much is what makes me want to change that and the guilt I will let go too so I can move forward and learn to be more in tune with her. You really made a difference for me and I will always grateful for that, just the peace inside knowing we're both going to be just fine. I will definitely work on my homework. Thank you for all the info I really needed this tonight. Looking forward to my new chapter I will keep you posted on my progress! Thank you and thank Keiko for tonight!" - Tammy
"Sue is truly my guardian angel. She not only brought me back from the depths of despair when I lost my beloved Blue, she is an incredible teacher and coach and has uplifted every spiritual and practical aspect of my life beyond my imagination. I couldn't be more grateful for her love, generosity and wondrous energy. Every time spent with Sue is joyous, life-affirming, and life-transforming. I am on a new, healthy and happy path in life thanks to Sue." – Selya Price
About the organizer
Sue London, The Animal Communicator offers online Pet Reiki Energy Training, shares knowledge of how to keep your pet healthy physically, emotionally, mentally and spiritually. You will learn how your pet communicates from the other side and what signs to look for. She offers tips on how to clear others negative energy from your pets, and much more inspiration and hope for you and your pet.
To book a private consultation to receive messages from your pet - https://asksuelondon.ca/services/