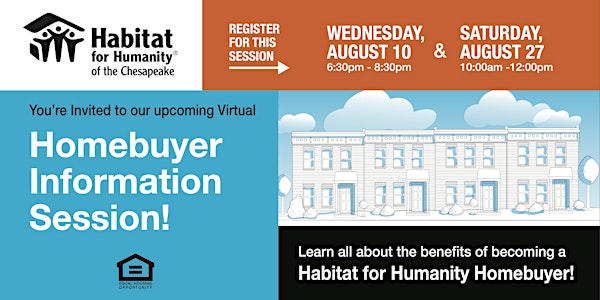 Learn How to Become a Homebuyer with Habitat | Virtual Info Sessions
Learn about all of the opportunities and benefits to becoming a Homebuyer with Habitat for Humanity!
About this event
Habitat for Humanity of the Chesapeake will be hosting our next Virtual Homebuyer Information Sessions in August!
Our upcoming Homebuyer Info Sessions will be held:
Wednesday, August 10th from 6:30-8:30 pm
&
Saturday, August 27th from 10am-12pm
During the session, our Homebuyer Services team will be highlighting the beautiful area of Curtis Bay, MD. We will give you insight on our homebuyer program, details on what the program involves, and all the benefits that come with being a Habitat homebuyer!
To qualify, you must meet the following criteria:
Earn 30-80% of the Area Median Income
Demonstrate responsible credit and bill paying history
Consistency in income or employment for at least two years
Willing to partner and complete 250 sweat equity hours
Healthy debt-to-income ratio
Able to afford a monthly mortgage payment up to 30% of your gross income
You'll learn much more information at our Info Session. They are normally 2 hours long, and will be held live on the ZOOM Conference Platform. You will receive the Zoom link by email once you register.
Spots are limited- Register today so we can save you a seat!
Learn more about Curtis Bay, MD here: https://www.habitatchesapeake.org/curtis-bay/
Email Melanie du Bois at mdubois@habitatchesapeake.org or call 443-297-9574 with any questions!