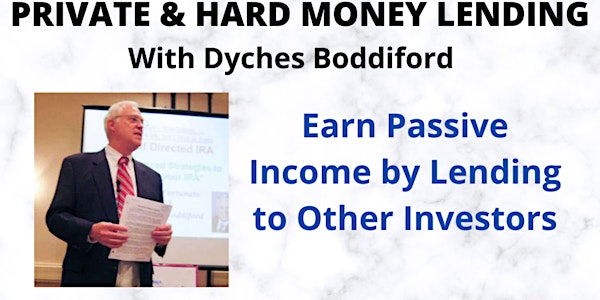 Learn How to be a Private or Hard Money Lender
There is NEVER a shortage of folks looking for Capital.
Refund Policy
Contact the organizer to request a refund.
Eventbrite's fee is nonrefundable.
About this event
THIS WILL BE A SPECIAL BAWB SPONSORED VIRTUAL ONLINE WEBINAR
Log On a little Early if you can
7:00 Pm PST the Webinar starts and ends by 8:30 Pm PST
Thursday February 18th,2021
Private & Hard Money Lending
Earn Passive Income by Lending to Other Investors
THIS WILL BE A VIRTUAL WEBINAR MEETING!
ANYONE CAN ATTEND
Thurs. 2-18-21 at 7 Pm PST Promptly
IMPORTANT: We have VERY Limited Space in the Online Meeting Room so to assure yourself access PRE-Register ASAP.
Let them do the "dirty work" while you earn the easy money!
Anyone can make a Loan...the Trick is to Making Good Loans!
From this Discussion You'll learn how to make money like the banks while avoiding all the hassle and mistakes made by most lenders. You'll learn how to earn huge returns and what common mistakes to avoid.
Join us and You'll learn…
*Evaluating the property—properly done, you will never be worried about a loan.
* Evaluating the borrower. As asset-based lenders, we shouldn't be concerned with the borrower,right? Well,there are a couple of things we should check or you may be sorry.
*What do you do when a borrower wants an extension? Can you charge an extension fee?
*Why you should never make phone calls to debtors.
* Licensing requirements and how to avoid them.
* Partnering on deals/split funding/using WRAPs.
* How to deal with Corporations, LLCs, and Land Trusts as borrowers.
*Other ways to structure funding that can generate even greater returns.
This is FREE to BAWB MEMBERS in GOOD STANDING
Save $5.00 by PRE-REGISTERING
$15.00 for All Others if PRE-Registered by 11:59 Pm on Monday 2-15-2021
Thereafter $20.00 to Register.
IMPORTANT TWO STEPS
STEP # 1 -REGISTER THRU EVENT BRITE & PURCHASE A TICKET RIGHT HERE ON THIS SITE
STEP # 2 -You will then receive in the Confirmation email Event Brite sends a special ZOOM meeting link so you will be able to attend the Webinar.
SAVE that Zoom Meeting URL and Mark it down in your Calendar!
NOTE: There will be no refunds if you are unable to attend the Webinar but a Replay will be available as long as no recording technical glitches occur.