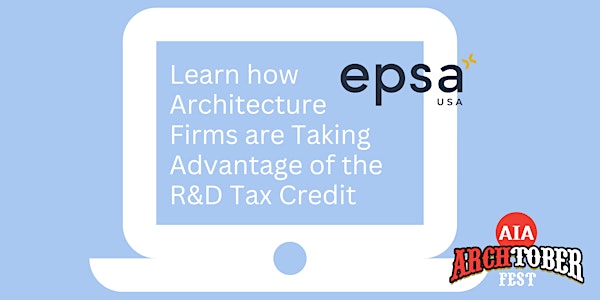 Learn how Architecture Firms are Taking Advantage of the R&D Tax Credit
Are you Leaving Money on the Table - Learn how architecture firms are taking advantage of the R&D Tax Credit
About this event
Come join AIA Wisconsin and Allied Partner epsa for a webinar to find out about how architecture and engineering firms are taking advantage of the R&D tax credits!
Many architecture firms do not think they can take advantage of this credit because they do not believe they do R&D. The definition in the Tax Code is broad and most architecture firms are indeed conducting research activities for everyday projects: Iterative process of design development, Conceptual and schematic design, Development of master plans, Site planning, etc. This session will explain what the R&D Credit is, how Architecture, Design and Engineering firms qualifies for it, and key question to ask to make sure you can benefit from it right away! Unlock the potential of the R&D Credit during this session with experts from EPSA.
Learning Objectives:
Explore eligibility requirements for Architecture, Engineering, and Design firms.
Evaluate bucket of cost and calculation principles to confirm it can be worth it for your firm.
Analyze case studies of Architects taking advantage of the R&D Credit.
Examine how to reduce your tax liabilities at the federal and state level.
1 LU/HSW
Members of the public can support the future of architecture in Wisconsin by joining the Friends of Architecture.
For a $75 donation each year, you will support scholarships and grants to architecture students and continuing education programs to Wisconsin architects. Friends of Architecture also receive AIA-member pricing at all public events.
Join today at FriendsofArchitecture.org.

Rachel Lindblade, Senior R&D Tax Consultant
Rachel graduated from Texas A&M University with a Bachelor of Science in Environmental Studies. After graduation, she began her career working with a tax advisory firm specializing in identifying Research and Development Tax Credits for small to medium sized businesses.
Today, Rachel is the Senior R&D Consultant for EPSA USA, the US subsidiary of EPSA, a global consulting firm. She specializes in Architecture, Design and Engineering firms of all sizes, from 5-10 employees to $100M in revenue, to identify and calculate a research and development tax credit at both the federal and state level. Rachel is part of a team of experts in R&D Credit which includes tax attorneys, data analyst & statisticians.
Alexis Martin, CEO
Alexis currently heads up EPSA USA, the US office of EPSA GROUP (1,200 employees and $600M in revenue), a global consulting firm specialized Innovation Funding and Operational Performance.
EPSA USA works with businesses of all sizes, from pre-profit to $100M in revenue, to identify and calculate under claimed federal and state incentives available. As an active member of AIA Wisconsin, AIA Pennsylvania and other chapters, Alexis educates many Architecture firms, Engineering firms and their CPA on how to take advantage of the R&D Credit.
Alexis graduated from a leading business school with a Masters' degree in Entrepreneurship. Early in his career, he worked for 15 years in NYC, before moving to Pittsburgh, PA and is now calling Philadelphia, PA his home with his family.