Learn from the Master Sushi Chef - Sashimi & Nigiri

Multiple Dates

San Francisco, CA
Event Details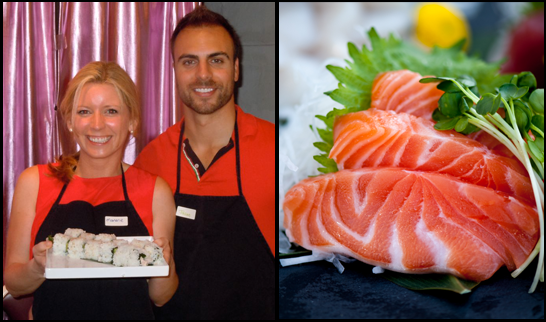 Come Join Chef Kaz Matsune of Breakthrough Sushi for this fun sushi making class. This class is for those who want to learn the advanced skills. You will  learn how to cut fish, what to look for in sashimi grade fish. how to make Sashimi and how to make Nigiri.
Kaz will share his secret tips, answer your questions on sushi making and everything you want to know about sushi like, "Where is a good sushi restaurant and where do I get sushi quality fish in San Francisco?"
Class Outline
Knife Handling
What to look for in sashimi grade fish
How to cut fish for sashimi
How to make and plate sashimi
How to make nigiri
Communal Dinner
Plenty of sushi to eat
Other Deteails
Event Location to be notified only to the registrants one week prior to the event date.
Organic and Sustainable Ingredients.
Ticket is good only for the date of the class. If you miss the class, there will be no refund.
7 day cancellation policy.
20 participants minimum.
Purchaser wil be notified for cacellation 7days before the class and receive a full refund.
Participants must be at least 21 years old or being accompanied by an adult.
Organizer
breakthrough sushi.
Established in 2012, Breakthrough Sushi is the first and only sustainable team building sushi class company in the world.

While Kaz Matsune learned some cooking techniques from his mother growing up in Japan, it was watching Graham Kerr on TV that truly inspired him to go on to become a chef.

Fifteen years ago, he started his professional culinary career at Iroha Sushi of Tokyo in Studio City, and moved on to a slew of jobs as head sushi chef, serving such Hollywood clienteles as Mick Jagger, Denzel Washington and Leonardo DeCaprio. Then helped open Kanpai in Los Angeles, where he developed the menu. Kaz had a unique experience developing dishes for San Francisco's first organic Japanese restaurant, Minako, before moving on to Ozumo and then famed restaurant Greens.

Breakthrough Sushi's clients include Google, Intel, Citibank, Prudential, Visa and many CEOs from reputable companies in San Francisco.