Learn from a Leader - Running Hard, Resting Well
Description
Learning how to rest well reacquaints us with the peace our souls have tried to live without, counteracting the corrosive nature of 24/7. As leaders, choosing to realign our lives to the motto "Run Hard. Rest Well." prepares us to advance into the world with a power not our own. Championing transformative rhythms of work and rest in businesses and organizations revolutionizes God's work in us and through us.
The Huntington University Business & Economics department will host the event featuring speakers Brenda Jank and Deb Beck.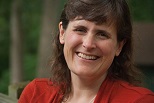 Brenda Jank is the founder and director of the rapidly growing 501c3 Run Hard. Rest Well., Brenda speaks from coast to coast and has written for Focus on the Family, Discipleship Journal, and Christianity Today publications.

Deb Beck is a partner with Thrivent Financial, a not-for-profit Fortune 500 organization which blends faith, finances, and generosity in its business model.
Join us for this event on Tuesday, January 23 from 6:00pm - 7:00pm in Loew-Brenn Hall Room 055. Seating is limited to the first 40 who register. Attendance counts as chapel credit. ALL STUDENTS WISHING TO RECEIVE ELECTIVE CHAPEL CREDIT MUST SIGN IN WITH FIRST & LAST NAME & ID NUMBER (legibly).