Description
Get Ready For Another Great Meet-Up with Orange County Small Business Marketing Connection! Can't wait to see you all!
On March 21, our topic will be email marketing. I'm preparing to take you through everything you need to know to become an Email Marketing Superstar!
Why you should come to this session:

Marketing means the difference between successful businesses that achieves their potential and ones that don't. Email marketing is proven to generate better results than other tactics small businesses can afford.
Here's a few reasons why email marketing should be part of your lead generation tool kit:
Building Credibility: Good email campaigns share helpful and informative content.
Increase Sales: Regular email contact with your prospects helps you establish communication that your prospects look forward to receiving. Your regular communication provides more opportunities to increase sales frequency, cross-sell and up-sell with your prospects and customers.
Strengthen Relationships: Regular, prospect-valued communication helps you stay top-of-mind through your business's annual peaks and valleys.
Generate Leads: Sometimes it takes time before a prospect is ready to do business. Monthly email campaigns help you stay in contact, educating and gaining your prospect's confidence, until the right moment comes. And when it does, your email provides the easy-button for your prospect to link to your business and get things going!

Also, think about these Email vs Facebook comparisons: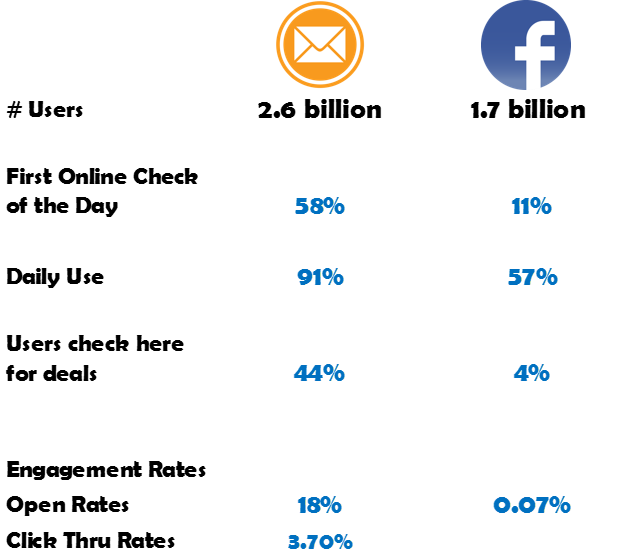 You really do owe it to yourself to come out to our next meeting!
The session is free, but the learning is priceless! See you there!
Time: 7:00 p.m.
Date: 3/21/17
Location: Pro Desk Space | 112 E Amerige | Fullerton, CA
Register Now!