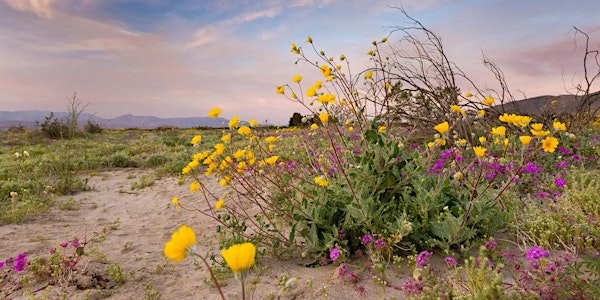 Learn Ecology & Photography in Peak Season for Wildflowers
When and where
Location
Borrego Springs Christmas Circle Community Park Borrego Springs, CA 92004
Description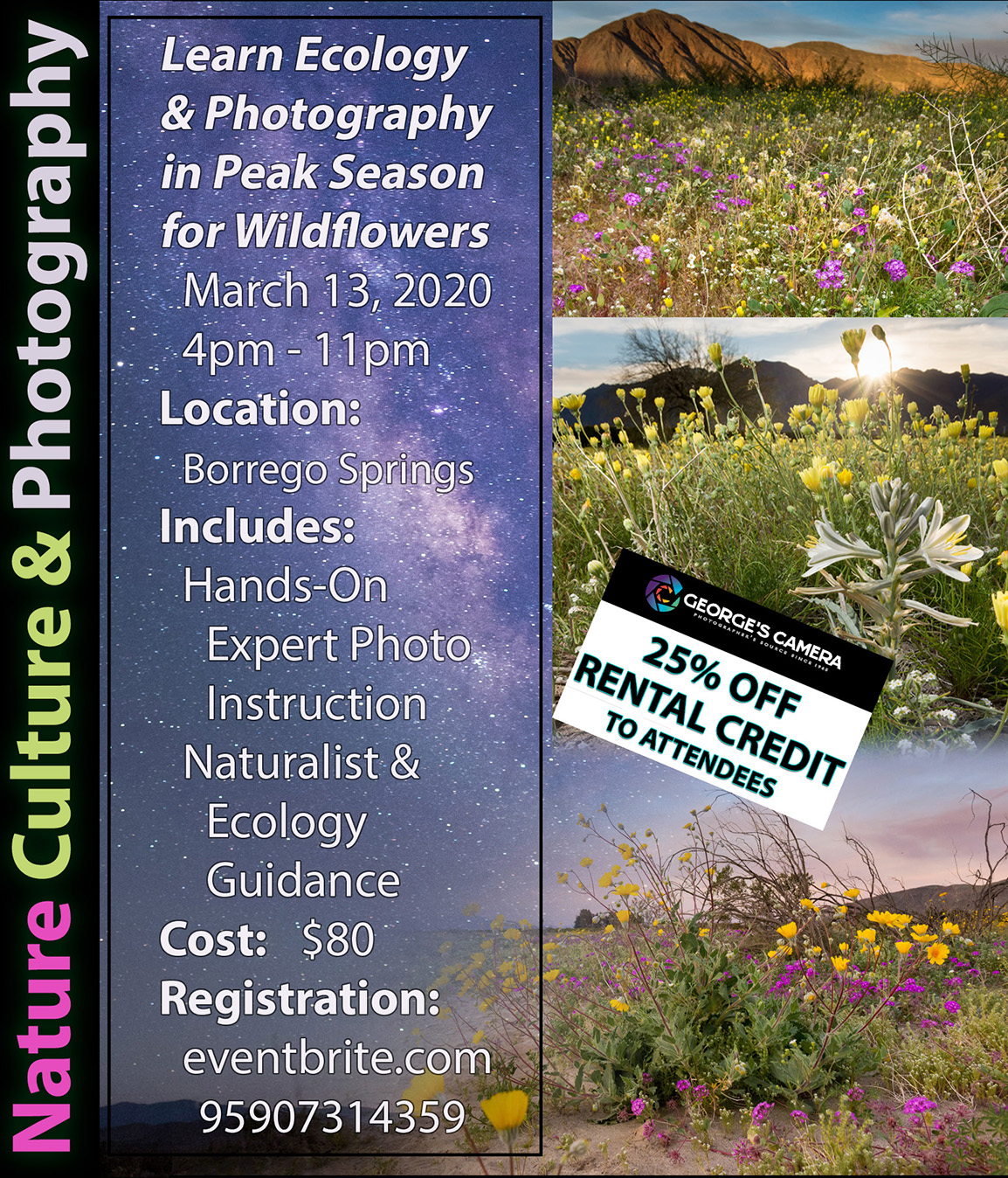 Wildflower Photography Workshop & Guided Ecology
Learn Culture, Nature & Photography in Peak Season of Desert Wildflowers

Join us for NATURE, CULTURE & PHOTOGRAPHY in Borrego Springs and enjoy the peak wildflower season!

This evening-and-night experience is designed to give you hands on shooting tips and techniques to improve your photography in the following areas: macro, landscape, long exposure, light painting, and celestial capture.

Discussions will include the meaning of landscape and ecology, sense of place, wildflower facts, photo exposure settings, remote operation, and long-exposure techniques. Designed for intermediate- and basic-level photographers who have knowledge of manual exposure modes.

For a full photography experience, bring: sturdy tripod, remote (preferably wired, not wireless), fast memory card, extra battery, wide-angle f/2.8-or-better lens, a recent-model DSLR, any telephoto lens, car charger, and a red light /flash light. Camera gear and rentals are available from George's Camera, with two convenient locations in San Diego. www.georgescamera.com

This will be a two-part experience: wildflowers, and then night shooting. We will all meet for a dinner break / talk in between. You must pay for your meal. Arrive early to account for visitor traffic.

Details subject to change. This is a rain or shine event. Vehicles with low ground clearance are not recommended.
---

ITINERARY: *Please read entire description above and below*
4pm
Meet at Christmas Circle for Ecology Talk and Wildflower Photography Instructional
5pm
Follow us & drive your own vehicle to up to three of our recommended premium wildflower locations, each within a short drive of Christmas Circle. You are free to roam here.
7:30pm
Regroup at Pablito's Mexican Bar & Grill for dinner and Night Photography Instructional and Ecology Talk. You pay for your own meal. Pablito's Mexican Bar & Grill - 590 Palm Canyon Dr, Borrego Springs, CA 92004 - (760) 767-5753.
9pm-11pm
Follow us & drive your own vehicle to our recommended premium night photography / starry sky location, within a short drive of Christmas Circle. You are free to roam here.

*Because of permitting, we recognize that admission technically only includes intructionals and talks taking place in public areas. For the sake of all attendees, we adhere tightly to the timeline above. Please arrive early, and take plenty of water.

Colin H. Richard is an educator, storyteller and sustainable designer active in environmental, cultural and tourism issues in Southern California and internationally. A growing writer and photographer, he has found a home among San Diego County's coast, mountains and deserts after growing up in the San Francisco Bay Area. Learn more at colinhrichard.net
Peter Francis is an experienced professional photographer and seasoned photography instructor. Twenty years of photographing wildlife and natural spaces have taken him across the western USA, through Brazil, Central America, Japan, Europe and beyond. He also specializes in outdoor weddings and portraits. Peter is Sales Manager for the historic George's Camera in North Park, San Diego. Learn more at francisfoto.com.