Event Information
Location
4/24: Downtown San Jose
4/25: East San Jose
5/11: Santa Clara
Description
Join us to learn about VTA's BART Phase II Project, coming into the heart of Santa Clara Valley!
VTA is bringing BART into the heart of Santa Clara Valley.

Curious about which future station will be the most convenient for you? What might be built near station areas? Or what are transit oriented communities? VTA is hosting a series of public meetings where you can learn about VTA's BART Phase II project, which will extend BART service through downtown San Jose and into Santa Clara and ring the bay with rail.
VTA staff will give overviews of the project, focusing on the stations, general project and construction information, and what makes a transit-oriented community. The Phase II project has already catalyzed economic development near future station areas and when in operation, BART expects to serve 52,000 daily riders by the year 2035. We want the community to hear all about it.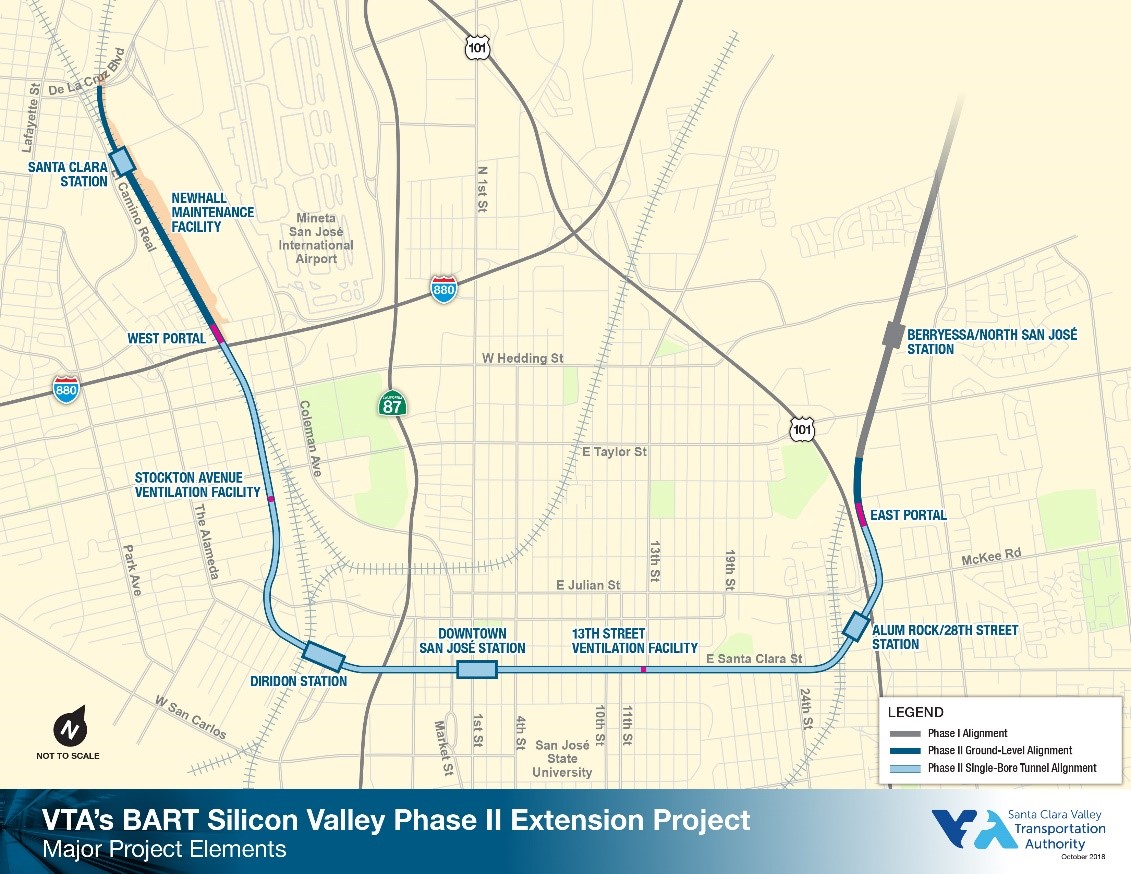 All are welcome to come learn about:
• General project overview
• Stations and other facilities
• Transit-oriented communities
• Community engagement and how to stay involved

Choose your location and date:
• April 24, 6-8 pm: Dr Martin Luther King Jr Library Works Room, San Jose
• April 25, 6-8 pm: Cristo Rey Jesuit High School, San Jose
• May 11, 10 am-12pm: Buchser Middle School, Santa Clara
Take transit to the meeting! Specific route information is available when you choose your location and date.
Children are welcome. Se habla espanol.
In accordance with the Americans with Disabilities Act (ADA) and Title VI of the Civil Rights Act of 1964, VTA will make reasonable arrangements to ensure meaningful access to its meetings for persons who have disabilities and for persons with limited English proficiency who need translation and interpretation services. Individuals requiring language assistance should notify VTA Community Outreach at least five business days prior to the meeting, at (408) 321-7575 or e-mail: vtabart@vta.org or (408) 321-2330 (TTY only). VTA's home page is on the web at: www.vta.org or visit us on Facebook at: www.facebook.com/scvta. (408) 321-2300: 中文 / Español / 日本語 / 한국어 / tiếng Việt / Tagalog.

Location
4/24: Downtown San Jose
4/25: East San Jose
5/11: Santa Clara