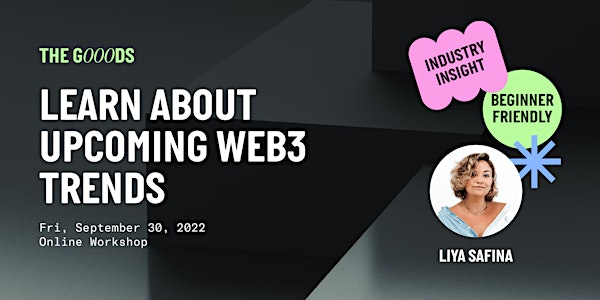 Learn about upcoming Web3 trends from a Coinbase designer
Web3 is here and it's fundamentally changing how brands engage with consumers in 2022. Learn about its trends beyond the NFT "goldrush".
Refund Policy
Contact the organizer to request a refund.
Eventbrite's fee is nonrefundable.
About this event
NFTs are dead. Long live NFTs.
Web3 is being touted as the future of the internet. The vision for this new, blockchain-based web includes cryptocurrencies, NFTs, DAOs, decentralized finance, and more.
Despite market volatility, major Q3 announcements from Mastercard, Salesforce, Starbucks are compelling examples of growing infrastructure investments in the Web3 space. The momentum is here, yet there's a lot of misguided ideas about how to take advantage of blockchain, NFT and Web3 strategies.
In order to succeed in the new market, we need to see NFTs as the first conceptual bridge between digital and physical, and facilitate identity, community and social experiences in the Web3 world.
To stay up to date on all things Web3 join Liya's free newsletter The G000DS here.
-----------
This workshop will teach you:
1. The 101s of Web3 and NFTs
2. How to understand the greater picture (e.g. the decentralized creator economy shift)
3. Upcoming trends and use cases that could go mainstream in 2022-23
4. Which boundary-pushing brands are "First Movers" in the space (and no, we're not talking about Nike, Gucci or Budweiser)
-----------
Meet Your Instructor
Liya Safina is a digital product designer and Web3 strategist living in Hawaii. She has helped launch over 60+ startups, 12+ iOS apps, and designed for Google, Nike, Alibaba, Toyota, StreetEasy, Hinge, Bumble, Brandless, ASICS, Equinox and Sotheby's, as well as created projects for LeBron James, Bob Dylan and Pharrell Williams.
Most recently Liya has worked on an NFT marketplace in London, Ethos Wallet, as well as led user testing and design sprints for Coinbase Pro platform.
She has been quoted by media publications including CBS News, The Future Laboratory UK, Adobe Magazine and Strelka Magazine, as well as presented keynotes at events across Europe, Russia, America, the Pacific.
To stay up to date on all things Web3 join Liya's free newsletter The G000DS here.