Description
Learn About Joining SII from Those In-The-Know
Join us to learn more about the exciting opportunity to become an entrepreneur at the USF Student Innovation Incubator (SII). Our panel of current and graduate companies will provide first-hand experience and detailed insight into the program.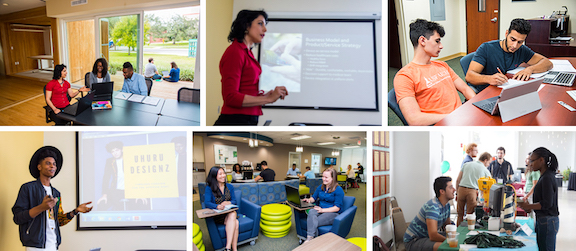 Presenting Companies:
AQUAMELON - All natural watermelon-based fruit juice company.
PIKMYKID -A comprehensive school safety platform that increases teacher efficiency and student safety while increasing parent engagement in schools.
YUMMI FOODS - A manufacturer and distributor of Colombian style empanadas and hot sauces.

---
USF is an Equal Opportunity/ Equal Access/ Affirmative Action Institution. Please notify USF CONNECT, 3802 Spectrum Blvd., Suite 100, Tampa, FL, 33612, call 813-974-1082, or email Laurie Sullivan at laura75@usf.edu, a minimum of five (5) working days in advance, if an accommodation for a disability is required.
Disclaimer: The University of South Florida and USF Research Foundation, Inc. are committed to the free exchange of ideas, reasoned debate and intellectual dialogue. Speakers and scholars with a diversity of opinions, perspectives and professional experiences are invited to the campus to provide the community with important or differing points of view, some of which may be deemed controversial. The views, opinions and conclusions of those invited to speak on the campus do not necessarily reflect the views of the university administration or any other segment of the university community. Nor are those invited to speak on campus necessarily authorized agents or representatives of the University or Research Foundation. The use of University or Research Foundation facilities for an event or presentation does not constitute an endorsement by the University or Research Foundation of the views, opinions and conclusions of those invited to speak.