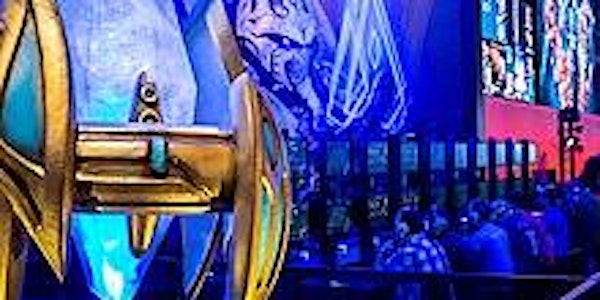 Learn about Business and Life Wisdom in Real Time by Playing Starcraft II
Attain Real-Time Invaluable Skills In Business and Life No School Can Teach You by Learn-Playing Starcraft II With Us + Bonus Reflections.
When and where
Location
3 Pemimpin Dr 3 Pemimpin Drive Singapore, 576147 Singapore
Refund Policy
Contact the organizer to request a refund.
Eventbrite's fee is nonrefundable.
About this event
You don't have to be a gamer to join us in these sessions. It's for everyone who wants to gain these invaluable insights and skills! Led by Massive Wisdom Group's Senior Lecturer who is a faculty of various MBA, MSc, Degrees Programs from Singapore, UK and USA University, these coaching sessions are engaging, life-like and fun to begin with. Fees are collected to defray our costs of providing a private, comfortable, small group training environment with nice air-con and electricity supply to progressively increase everyone's REAL SKILLS in Business. Coffee and Tea are on us. Our session comprises of setup, briefing, game plays and business discussion and reflection.
Some lessons that can be learned through playing StarCraft II with us that are useful in real life include:
Attaining business insights from playing StarCraft II with us. This include critical analysis, business strategy and starting up, etc.
Taking a lot of actions.... somethings simultaneously.
Treading Macro Vs Micro Management.
Learn from Failures and Successes.
There is usually more than one way to accomplish something.
Timing is critical in many situations.
Execution vs Strategy
Long term success Vs short term gain.
Talent management.
Different functions are good at different things.
It's not one big thing but a bunch of little things that add up.
Depending on who are joining us, we could even sponsor or form a team for competitions.
StarCraft II: Wings of Liberty features the return of the three species from the original game: Protoss, Terran, and Zerg. In the Terran campaign, the original StarCraft briefing room is replaced with an interactive version of the battlecruiser Hyperion, with Jim Raynor, a bitter and hard-drinking mercenary captain, as the central character. In a departure from previous Blizzard games, the campaign is non-linear, with Raynor taking jobs for money and using that money to buy additional units and upgrades. Although each playthrough will vary, the result remains consistent, keeping the storyline linear. Blizzard's Vice President Rob Pardo stressed that each campaign will function very differently. The Terran campaign, Wings of Liberty, places players in a mercenary-style campaign, as Terran rebel group Raynor's Raiders raise funds by taking assignments from outside groups. The second release, Heart of the Swarm, is Zerg-focused and has role-playing elements. Sarah Kerrigan is the focus of the campaign, and the story revolves around the possibility of her redemption. The Protoss-themed Legacy of the Void is the third expansion, with the Protoss Artanis attempting to reunite the Protoss tribes in order to stop Amon, a fallen Xel'Naga.
Wings of Liberty has 29 playable campaign missions; 26 are playable in a single playthrough, three missions are choice-related alternates, and one hidden secret mission.
The Wings of Liberty campaign contains several missions with unique features, such as lava that floods the battlefield every five minutes, forcing the player to move their units to high ground before they are destroyed. In another mission, enemy units attack the player only at night, forcing the player into a form of siege warfare. In one mission, the player must use a single unit to influence the tide of an AI-controlled battle. Between missions, players can choose units, buildings, and upgrades that are not available in the multiplayer missions.