| | |
| --- | --- |
| Learn 5 Strategies for Networking Success + Explore Storage Solutions with OWC | |
Event Details
Join the LAPPG for our July 11th meeting at Crossroads School in Santa Monica. (Doors open at 7pm). Our evening will feature two informative presentations:

THE GREENLIGHT COACH: GET MORE WORK WITH THESE 5 STRATEGIES FOR NETWORKING SUCCESS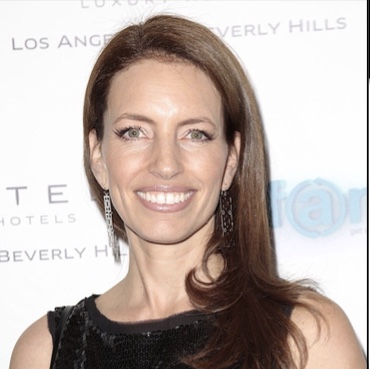 In an industry of storytellers, networking seems to be the greatest challenge… networking correctly that is. Jessica Sitomer, The Greenlight Coach is back by popular demand and this time she will be returning to the LAPPG to go over the mistakes she sees being made over and over at event after event. If you're making them, Jessica has solutions. Her 5 strategies for networking success will help you build your contacts faster, overcome networking obstacles, and get more work.

 

 
OWC'S SUPER FAST THUNDERBOLT 3 FAMILY & OWC LISTENS TO YOU


Thor Juell, OWC director of marketing, and AJ Gerth, product marketing manager, return to LAPPG to discuss the company's growing family of Thunderbolt 3 performance driven storage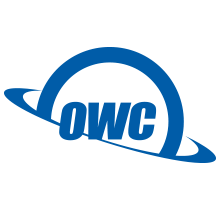 and connectivity solutions that will help you accelerate all of your production workflow from ingest through final project delivery.

From high performance Thunderbolt 3 cables that support up to 40Gb/s throughput to dual display port and HDMI adapters and massive 4-drive storage featuring softRAID that's designed to work the way you work; the duo again encourage you to come prepared to discuss what new products, product enhancements you'd like to see from OWC.

For Thor, AJ and the OWC team it's all about listening to how the company can help you deliver projects on time and improving your bottomline. As Thor said, "The best product ideas come from the people who actually work on and deliver today's visual stories."
***As always there will be plenty of time to network, enjoy some coffee and participate in our great giveaway which includes thousands of dollars of amazing prizes from our generous partners!

$5.00 cash kindly requested at the door will include 1 giveaway ticket.
Location:

 Roth Hall

1714 21st Street

Santa Monica, CA 90404
Click for a map here.
***Street parking is available as well as a Crossroads parking lot on 22nd Street. Cick here for a parking map.

---
WHAT A WAY YO CELEBRATE!!!!!!!!!!!

A big thank you to our members, partners, presenters and friends for coming out and packing the house at NewFilmmakers Los Angeles's June Film Festival on Saturday, June 23, 2018 to celebrate our big 10 year milestone!

From the fantastic short films to the dueling open bars, attendees spent valuable time networking with other filmmakers and exploring the latest in filmmaking technology from Adobe, Blackmagic Design, LaCie, and OWC. In addition to these amazing companies we want to thank Shutterstock, Vimeo and ZEISS for their support as well.
And finally a huge thank you to the team at NewFilmmakers Los Angeles for co-hosting this fabulous evening and making our celebration so special!
Visit our Facebook page to see our photos!

---
PREMIUMBEAT GOES GLOBAL

PremiumBeat has expanded its global music selection. From an authentic K-Pop, Middle

Eastern-themed tracks, to French language vocals, and beyond, there is a world of region-specific music available to help bring a project's location to life.

To see the full list of tracks, check out their world music collection, filter by language, and find the perfect track.

---
LAPPG ON DIGITAL PRODUCTION BUZZ
Curious how LAPPG got started? Want to find out the hardest part about running a group like LAPPG? Tune into Digital Produciton BUZZ where Larry Jordan will be interviewing LAPPG Executive Director, Wendy Woodhall on the heels of our 10th anniversary celebration.  Click here to listen to Wendy's interview and click here to listen to the entire show dedicated to user groups.
A big thank you to Larry and his producer Debra Price for dedicating and entire hour to the importance of user groups and for their longime support and loyalty not just LAPPG but to usergroups worldwide.

---
SUBSCRIBE TO LAPPG'S YOUTUBE CHANNEL TO CATCH UP ON MISSED MEETINGS

Here's a look at April's meeting with a visit from Matt Christensen who brought us up-to-date with the latest from Adobe straight from NAB. Among the advances that Matt discusses are a new comparison view and color matching in their Lumetri panel enabled with their deep AI learning. iPhone footage can be detected with their variable frame rate, in the effects panel, under variable frame rate effect, to choose to preserve audio sync or smooth video motion. He displays the new time code window that is very flexible and can display many different options. He also introduces a new website called Adobe user voice, with a reddit style up voting that alerts the Adobe team of issues and offers direct feedback from end users.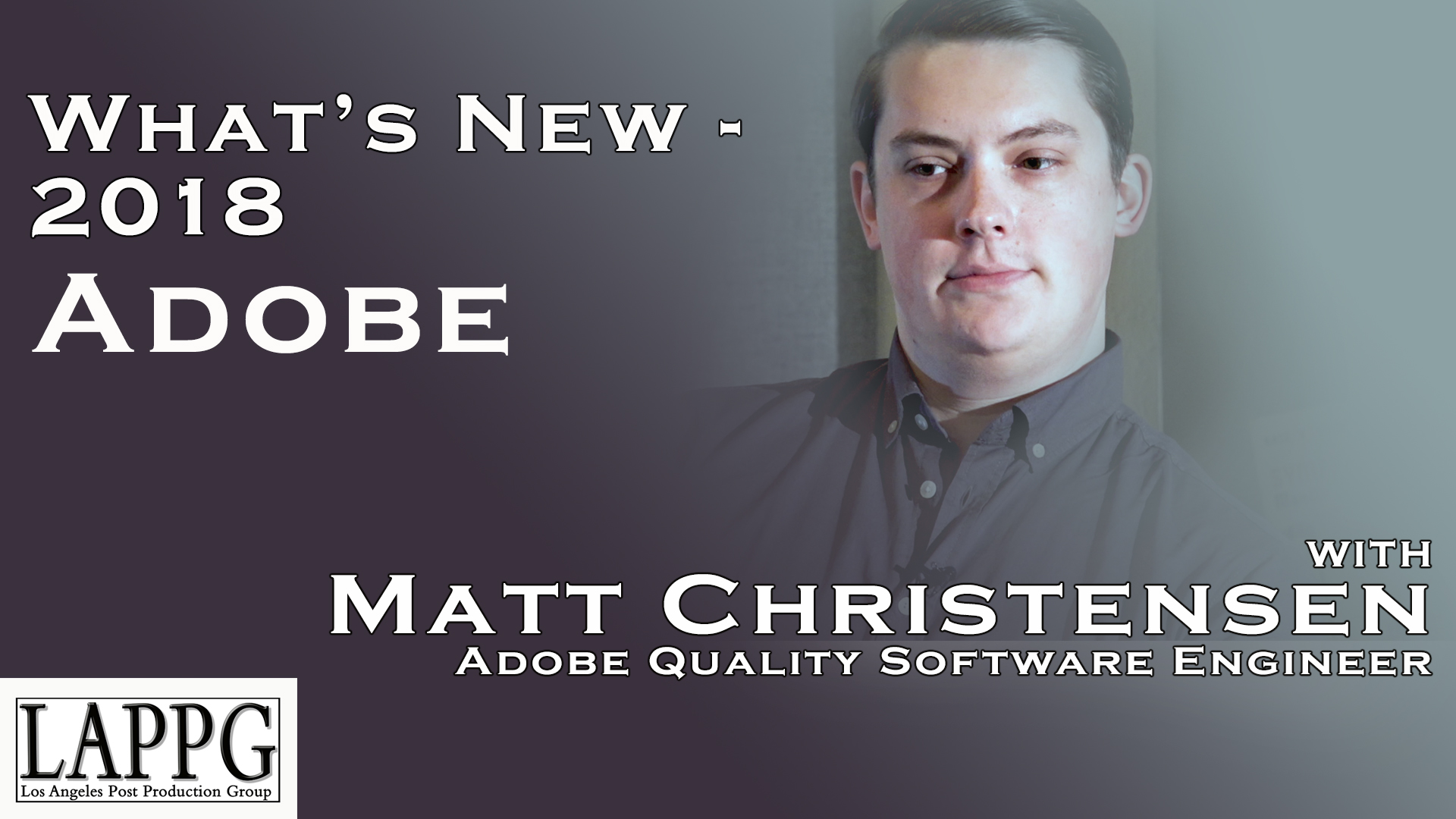 Watch here:

https://youtu.be/_tH0JF_tpmE
Click the button below to SUBSCRIBE and be notfied as new videos hit our

---
MARK YOUR CALENDAR FOR THESE UPCOMING MEETINGS AND EVENTS

July 11, 2018 – LAPPG Meeting (Roth Hall)
July 25-29, 2018 – Editors Retreat (Atlanta, GA)
August 7, 2018 – LAPPG Meeting (Community Room)
September, 12, 2018 – LAPPG Meeting (Roth Hall)
October 10, 2018 – LAPPG Meeting (Roth Hall)
November 15, 2018 – LAPPG Meeting (Roth Hall)
---
GET YOUR DISCOUNTED PASS TO THIS YEAR'S EDITORS RETREAT
There's simply nothing like the Editors Retreat conference. From the big industry names to the advanced interactive sessions and mind-blowing technical content to great group outings, you'll have insider access to it all.
Now in its 12th year, Editors Retreat is an exclusive event specifically created for TV, film and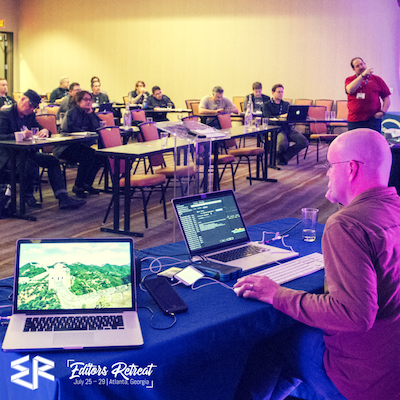 video editors. Check out the 5-day program and book your pass.

Every Editors Retreat attendee receives a goodie bag worth thousands of dollars. Here are some of the items included this year:
Two DFT Plug-in sets (value $595) - courtesy of Digital Film Tools
One Copy of EditReady (value $49.99) or ScopeBox (value $99) - courtesy of Divergent Media
One Free Pass to Post|Production World 2019 (value $1,150) - - courtesy of NAB Show
One Adobe Creative Cloud and One Media Composer license (Value $1,299) - courtesy of KeyCode Media
Save an additional $250 with promo code ER18: http://ow.ly/FDRN30i8ODX
---
CONNECT WITH US!              

---
We thank the following partners for their generosity and support of our monthly meetings. Please visit them:
Adobe, Advantage Video Systems, Blackmagic Design, BorisFX, Creative Handbook, Digital Rebellion, Glyph Production Technologies, Imagineer Systems, Indie Shooter, Intelligent Assistance, iZotope, LaCie, Mercury Production Report, Other World Computing, Pro Sound Effects, Pro Video Coalition, ProductionHUB, Shutterstock, Sound & Picture, Vimeo, Zeiss. 

We look forward to seeing you on Wednesday, July 11th!
Sincerely,

Los Angeles Post Production Group
Please visit www.lappg.com for discount offers, job listings, industry news and more.
When & Where

Crossroads School's Roth Hall
1714 21st Street
Santa Monica, CA 90404


Organizer
The Los Angeles Post Production Group is a professional organization for people with a passion for film, video and the digital media finishing process.

The LAPPG discusses all aspects of post production, from picture and sound editing to color correction, visual effects, codecs, storage and post workflows.

Expert presenters and leading companies come to our monthly meetings and share new technologies, techniques, tools, products and best practices to aid us in telling great stories.
We also provide our members with great offers and discounts as well as opportunities to network and make industry connections.
Membership is free and you need not live in Los Angeles to take advantage of this great resource.
To become a member please email your name and information about yourself to membership@lappg.com.